Yosemite > About >
About this website, Yosemite Online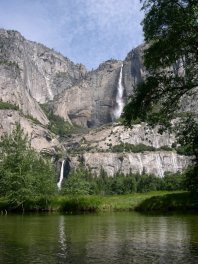 Yosemite Falls from a
Merced River raft

The Lonely Planet guide Yosemite National Park says this is an "excellent website," "though it's hard to tell who's at the helm". Email from others complain that there's no "about" webpage for this site, so I decided I need to write this.

I'm a Security Researcher at Intel Corporation. I live in Oregon and have visited Yosemite many times, usually off-season or in the backcountry.

I started this website in 1997 after a series of frustrations visiting Mariposa Grove of Giant Sequoias in Yosemite National Park. I like to wander around the grove from time to time, sometimes off the beaten path. However, with the maze of roads and trails, I've sometimes ended up on the long road or trail back to Wawona or elsewhere. Fine—I'll just pick up a map at the trailhead parking lot. Well, it seems that it's rarely in stock—fall, winter, spring, or summer. You can get translated leaflets—that don't include the map—in several exotic languages, which is fine, but not English, let alone with a map.

Well, OK, I thought. Next time I'll jump on the web and print out a map from the official Yosemite National Park NPS website before I go. Isn't the web great?—such a wealth of information available. Well, I look and look around the NPS website. No map of Mariposa Grove there. In fact, no information about Mariposa Grove and no maps at all on the website except for a large-scale map of the entire park and another of part of Yosemite Valley. Yosemite National Park—established in 1864 in part to protect the Mariposa Grove—has no information or map of Mariposa Grove! Wow! [Update: in 2007 the NPS website added a map of Mariposa Grove, among other useful maps. Thanks NPS!].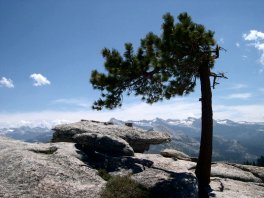 Sierra Nevada crest looking
north from Sentinel Dome

So, I decided at that moment to create a website with detailed information about Yosemite—books, maps, and a forum to post questions and comments about Yosemite. In the previous three years I posted all John Muir's books and a few major articles at the Sierra Club's John Muir Exhibit, so I knew how to do it. I also knew that—although most Yosemite books in print is under copyright—an equal or greater amount is public domain, not copyrightable, never copyrighted, or out of copyright. Although much information in the public domain is somewhat dated, most is still relevant: "just because something is old doesn't mean it's useless." For example, no new mountain ranges or newly-evolved plants or animals have appeared since the park was created.

The emphasis I have on this website are classic, hard-to-obtain primary books about Yosemite National Park and vicinity. I also like old maps and photographs of the park. Most books I post online "as-is," although I correct the most egregious and commonly-repeated errors in square brackets .

I'm commonly asked who sponsors this website. The answer is just me. I the web server up and I pay my monthly ISP bill for web server bandwidth. Although I've had assistance from several people, I created this website independently without the approval of and, unfortunately, without cooperation of the National Park Service. If you wish to help, however, please contact me. In any case, I hope you enjoy this website and enjoy our National Park.

—Dan Anderson, September 2007



Selected Reviews
"Read complete online versions of historical books and articles by John Muir, Frederick Law Olmsted, tourism promoter James Hutchings, and Lafayette Bunnell, who wrote the first account of European Americans exploring the valley. You'll also be able to look at early maps of the valley and photos by 19th-century photographers Carleton Watkins and Edward Curtis." —National Geographic Magazine (2004)
"Thousands of pages of online books fill the digital Yosemite Online Library (www.yosemite.ca.us/library), including the complete texts of numerous authors, century-old newspaper articles and more. Despite the title, it's great for Sierra history in general. " —Lonely Planet Yosemite, Sequoia & Kings Canyon National Parks (2008)
"A good starthing point for all manner of Yosemite-related material, this portal includes maps, weather, books, and links to all the other major organizations working in and around the Park. They even have a gallery of historic paintings of the Park, and a handy forum section with all sorts of postings about the Park." —The Rough Guide to Yosemite National Park, 2d ed. by Paul Whitfield (2005)
"Though it's hard to tell who's at the helm, this regularly updated site features forums on a wide range of subjects . . . This site provides direct answers to your questions. Though not much to look at, it's worth checking out if you'd like to pose queries to those who know Yosemite." —Yosemite National Park (Lonely Planet, 2003) by Kurt Wolff, Amy Marr, David Lucas, and Cheryl Koehler
"Excellent portal to Yosemite-related websites, including online versions of writings by John Muir and others." —California (Lonely Planet, 2006) by Andrea Schulte-Peevers and Sara Benson
" ヨセミテ関連古典本のかなりのものが、オンラインで読めます(勿論無料です)。 ぜひブックマーキングをしておきましょう。 " (Rough translation: "Considerable number of classic books related to the Yosemite, readable online (free, of course). This means we'll be bookmarking it.") —www.yosemite.jp, guide to Yosemite National Park for Japanese travelers (2004)
"An excellent source for online text of books, old documents and maps of Yosemite" —Sierra Nature Notes, online journal of Sierra Nevada natural history news (2007)
I am always on the lookout for historical information on Half Dome and Yosemite. In my research I quicky found that J. D. Whitney's 1869 book The Yosemite Book was on-line only in PDF format. The "Yosemite On-line" site proved invaluable since the entire book had been converted to text. Thanks and keep up the good work! —Rick Deutsch, author One Best Hike: Yosemite's Half Dome (2007)
---
Copyright © 1997-2011 Dan Anderson. All rights reserved.
Last updated 1 December 2021.

If you have questions or comments, please send a message to Dan Anderson.

http://www.yosemite.ca.us/about/