CalHotels.US Lowest Hotel Rates Guaranteed. Click Here For Yours!
Hotel photos, maps, reviews, & discount rates.
U.S. Hotels in California (Yosemite, L. A., San Francisco ), AL, AK, AR, AS, AZ, CA, CO, CT, DC, DE, FL, FM, GA, GU, HI, ID, IL, IN, IA, KS, KY, LA, ME, MD, MA, MI, MN, MS, MO, MT, NE, NH, NJ, NY, OK, NV, MH, MP, NM, NC, ND, OH, OR, PA, PR, PW, RI, SC, SD, TN, TX, UT, VT, VA, VI WA, WV, WI, WY
John Muir Writings
My First Summer in the Sierra
by John Muir (1911)
---
Contents
---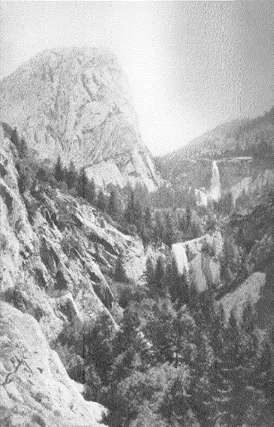 Liberty Cap, with Vernal and Nevada Falls
---
---
With Illustrations from Drawings made by the Author in 1869 and from Photographs by Herbert W. Gleason
Houghton Mifflin Company
Boston and New York
The Riverside Press Cambridge
Published June 1911
Copyright, 1911, by John Muir
All Rights Reserved
---
To
The Sierra Club of California,
Faithful Defender of
the People's Playgrounds
---
Illustrations in the Text
Plates
Reproduced from photographs by Herbert W. Gleason, several of which were taken while in the company of the author, who is seen in the one facing page 216.
From sketches made by the author in 1869.
---
Bibliographic Information
Muir, John (1838-1914). My first summer in the Sierra (Boston, New York: Houghton Mifflin company, 1911). vii, 353 p., front., illus., plates. 21 cm. Illustrations from drawings made by the author in 1869 and from photographs by Herbert W. Gleason. Library of Congress Call Number F868.S5 M9. LCCN 11014183.
The electronic text for My First Summer in the Sierra was acquired from the Library of Congress Web server under the Evolution of the Conservation Movement section of their American Memory Web site. It has been reformatted for the John Muir Writings.
---
---