Yosemite > Pioneer History > Cavalry Office >
Next: Ranger Patrol Cabin • Contents • Previous: Blacksmith Shop
Pioneer Yosemite History Center Online Tour
---
Cavalry Office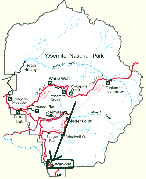 [click to enlarge]


Camp A. E. Wood
(now Wawona Campground),
original location of Cavalry
office

On October 1, 1890, a national preserve of 932,600 acres (377410 hectares) was established, surrounding Yosemite Valley and the Mariposa Grove of Giant Sequoias. Although Yosemite was set aside as a national park, the National Park Service had not been created. Following the precedent set in Yellowstone, our country's first national park, the U. S. Cavalry managed Yosemite, becoming Yosemite's first park rangers. Between 1891 and 1913, 150 cavalry troopers from the Presidio in San Francisco spent the summer months here to protect and administer the area.

Their headquarters was Camp A. E. Wood, now the Wawona Campground. This particular peaked-roof building was erected in Wawona as headquarters for the commanding officer who served as "Acting Superintendent" of Yosemite National Park.

Camp A. E. Wood closed in 1906 when California receded it's grant of Yosemite Valley back to the Federal Government. The Army moved its headquarters to where Yosemite Lodge is now located. The headquarters building was moved around that time and ended up in "Soapsuds Row," formerly near the Yosemite Lodge, in the 1950's. This was the first of nine buildings to be moved to the History Center.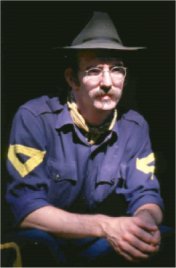 A horse soldier could go anywhere,
so it was logical to use the U.S.
Cavalry to patrol Yosemite National
Park (NPS, Yosemite Guide)

The troops built miles of high Sierra trails for patrol purposes, trails suitable for visitors as well. From here, troops visited the big trees, patroled the high country and stocked lakes and streams with trout to provide fine angling. They patrolled trails and enforced rules, such as no hunting or grazing, and protected the park from timber theft and mining. After several seasons, they succeeded in abating sheep herding in the delicate high country meadows. In addition, they dealt with wildfires, poachers and lost travelers.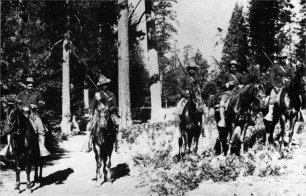 [click to enlarge]


24th Negro Infantry, Co. H
"Buffalo Soldiers" were one of the
Cavalry units protecting Yosemite
(Celia Crocker Thompson, 1899)

In 1906 the State of California returned Yosemite Valley and the Mariposa Grove to the federal government to be managed as part of Yosemite National Park, and the headquarters moved to Yosemite Valley. The National Park Service was created in 1916, replacing the role of U.S. Cavalry in protecting the park.

The Acting Superintendent's Headquarters is listed in the National Register of Historic Places (conservation, local).
More information
---
Next: Ranger Patrol Cabin • Contents • Previous: Blacksmith Shop
Copyright © 2005 by Dan E. Anderson. All rights reserved.
http://www.yosemite.ca.us/pioneer-yosemite-history-center/cavalry_office.html