CalHotels.US Lowest Hotel Rates Guaranteed. Click Here For Yours!
Hotel photos, maps, reviews, & discount rates.
U.S. Hotels in California (Yosemite, L. A., San Francisco ), AL, AK, AR, AS, AZ, CA, CO, CT, DC, DE, FL, FM, GA, GU, HI, ID, IL, IN, IA, KS, KY, LA, ME, MD, MA, MI, MN, MS, MO, MT, NE, NH, NJ, NY, OK, NV, MH, MP, NM, NC, ND, OH, OR, PA, PR, PW, RI, SC, SD, TN, TX, UT, VT, VA, VI WA, WV, WI, WY
John Muir Writings
Our National Parks
by John Muir (1901)
---
---

[Woodcut from
book cover]
---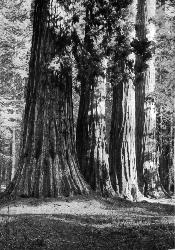 Sequoias, Mariposa Grove (Page 134)
---
OUR NATIONAL
PARKS
BY JOHN MUIR

TOUT BIEN
OU RIEN
BOSTON AND NEW YORK
HOUGHTON, MIFFLIN AND COMPANY
The Riverside Press, Cambridge
---
COPYRIGHT, 1901, BY JOHN MUIR
ALL RIGHTS RESERVED
Published November, 1901.
---
TO
CHARLES SPRAGUE SARGENT
STEADFAST LOVER AND DEFENDER
OF OUR COUNTRY'S FORESTS
THIS LITTLE BOOK
Is Affectionately Dedicated
•
---
In this book, made up of sketches first published in the Atlantic Monthly, I have done the best I could to show forth the beauty, grandeur, and all-embracing usefulness of our wild mountain forest reservations and parks, with a view to inciting the people to come and enjoy them, and get them into their hearts, that so at length their preservation and right use might be made sure.
Martinez, California
September, 1901
---
Bibliographic Information
Muir, John (1838-1914). Our national parks (Boston and New York: Houghton Mifflin company, (1901)). x+382 p., front., 31 pl., map. 22 cm. Library of Congress Call Number E160.M954. LCCN 09028411.
The electronic text for Our National Parks was acquired from the Library of Congress web server under the Evolution of the Conservation Movement section of their American Memory Web site. It has been corrected for the John Muir Writings.
Corrections were made in 1997 by Dan Anderson from a copy of the c. (1901) reprint borrowed from the UCSD Library; the appendix (in the c. (1901) reprint) and illustrations were also added. The c. (1901) reprint, is not identified as such from the title pages, but can be identified from the dates in the appendix.
---