Yosemite > Library > Big Trees of Calif. > Cones and Seeds >
Next: Young Sequoias • Contents • Previous: Characteristics
The Big Trees of California (1907), by Galen Clark
---
Cones and Seeds
---
The cones or fruit of the tree average about the size of a hen's egg. It takes two years for the seeds to mature in the cones, which they do late in the fall, although the cones do not dry and shrink so as to shed the seeds until the third season. The seeds are of a light golden color, small and flat, about the size and shape of a parsnip seed.
The seeds have no wing appendage like those of the pines, and firs, only a blank margin of shell on each side, a little wider than the vital germ in the center. There is a small amount of purple-colored gum about the seeds in the cone, which falls out in dust with the seeds when they drop. This gum is of the same character as that which exudes from the body of the tree where it has been deeply burned, and is readily soluble in water.
An analysis of this gum at the United States Department of Agriculture, Bureau of Chemistry gives the following result:
Per Cent
Moisture at 100°
12.79
Wood Scrap
.81
Tannin
34.63
Nontannin
51.77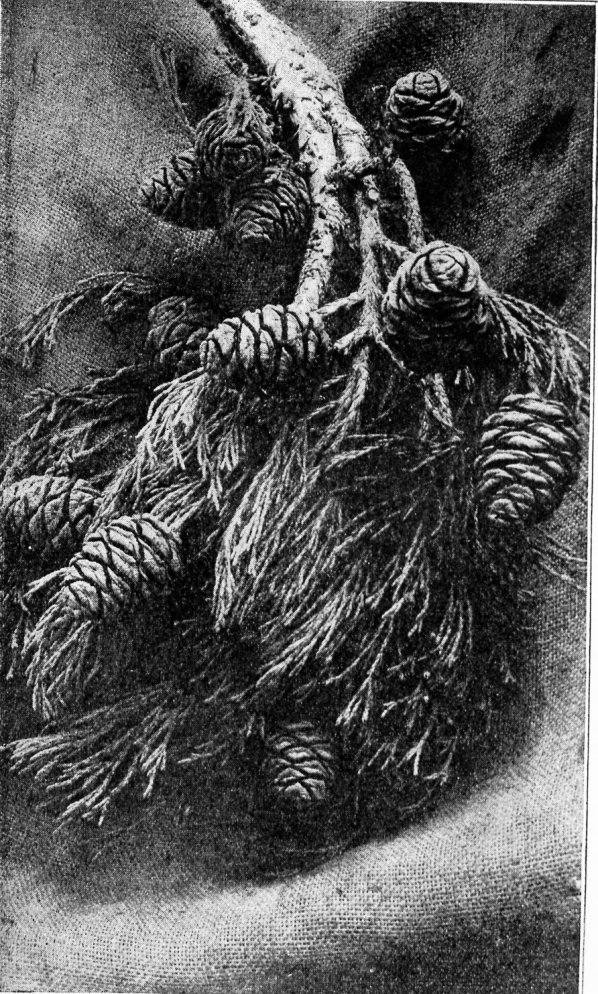 Photograph by Sweeney.
CONE'S AND FOLIAGE OF THE BIG TREES.
Professor H. W. Wiley, Chief of the Bureau, says: "The material possesses none of the physical nor chemical properties of wood gums; it is optically inactive, non-cohesive and contains neither glucosides nor pentosans. The non-tannins are chiefly protocatechuic acid with smaller amounts of catechol, gallic acid, etc. The tannin is largely a catechol, tannin, although some gallotannic acid is present. The, material is interesting, not only in containing a large percentage of tannin, but also because it contains so little of the insoluble decomposition products of catechol tannin."
The material gave 3.60 per cent. of ash which contained:
Per Cent
Calcium oxid (Cao)
11.22
Magnesium oxid (Mgo)
8.33
Potassium oxid (K2O)
50.00
Sodium oxid (Na2O)
1.25
Phosphoric acid (P205)
Trace
This gum is not inflammable, like resinous gums, but strongly resists the action of fire. Whether in its fluid state in the body of the tree it aids in sustaining the tree's vitality against destructive elements, is not certainly known, but probably is true. It undoubtedly gives the red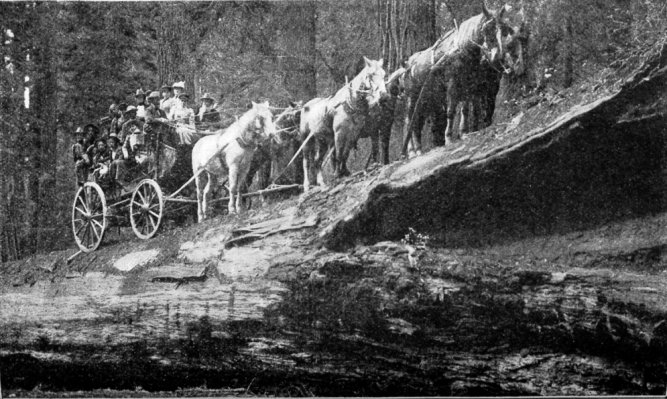 Photograph by Fiske.
FALLEN MONARCH, MARIPOSA GROVE.
Length, 285 feet; diameter, 26 feet.

color to the wood inside of the thin white sap wood next to the bark.
---
Next: Young Sequoias • Contents • Previous: Characteristics
http://www.yosemite.ca.us/library/big_trees_of_california/cones.html