Yosemite > Library > Birds of Yosemite > Nuthatches >
Next: Creepers • Contents • Previous: Tits
Birds of Yosemite National Park (1954, 1963) by Cyril A. Stebbins and Robert C. Stebbins
---
NUTHATCHES
NUTHATCHES: Family Sittidae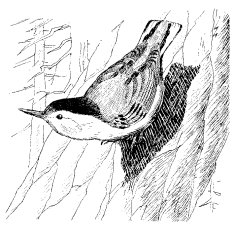 WHITE-BREASTED NUTHATCH

WHITE - BREASTED NUTHATCH (Sitta carolinensis): 5-6 in. Top of head and nape black; back blue-gray; tail short; under tail coverts reddish-brown; outer tail feathers black with white spots; breast and sides of head whitish; relatively long, slender bill. Call a somewhat nasal hank, hank. Creeps both up and down tree trunks and branches. Does not use tail as support in climbing as do woodpeckers. Nests in abandoned woodpecker holes or constructs its own nesting chamber.

Frequents chiefly rough-barked trees such as oaks and conifers. R. from the Upper Sonoran to the Hudsonian life zone, concentrating in the lower zones in winter. Occasionally seen in Yosemite Valley.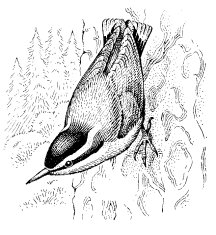 RED-BREASTED NUTHATCH

RED-BREASTED NUTHATCH (Sitta canadensis): 4 1/2 in. Top of head and line through eye black; white stripe over eye; upper parts bluish-gray; tail dark with white spots on outer feathers; below buff or reddish-brown, lighter in immature and in female. Carries tail on line with back when foraging. Call, a nasal gna gna.

Frequents chiefly conifers in the Canadian life zone. It especially favors firs in which it often forages at considerable heights. Partially R., many individuals descending in winter to lower levels and to the south. In the Yosemite region common in summer in the Canadian zone but also found in the Transition and Hudsonian zones. To be seen in Yosemite Valley almost all year.

PYGMY NUTHATCH (Sitta pygmaea): 4-4 1/2 in. Above light bluish-gray; head darker or brownish with dark line through eye; white on nape inconspicuous; under parts white or buffy; tail short, outer tail feathers with black and white. Inhabits the trunks and main branches of trees. Often seen feeding in pine-needle clusters. Usually travels in small flocks.

Frequents pine trees and other conifers in the Transition life zone, often foraging at high levels in trees. Uncommon R. in the Yosemite region in the Transition and Canadian life zones. Occasionally seen in late summer and fall around the rim of Yosemite Valley. Rare in Yosemite Valley.



---
Next: Creepers • Contents • Previous: Tits
http://www.yosemite.ca.us/library/birds_of_yosemite/nuthatches.html