Yosemite > Library > Birds of Yosemite > Stork-like Birds >
Next: Goose-like Birds • Contents • Previous: Pelican-like Birds
Birds of Yosemite National Park (1954, 1963) by Cyril A. Stebbins and Robert C. Stebbins
---
STORK-LIKE BIRDS: Order Ciconiiformes
HERONS AND BITTERNS: Family Ardeidae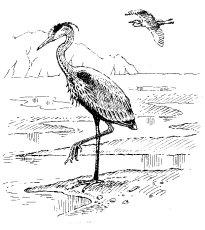 GREAT BLUE HERON

GREAT BLUE HERON (Ardea herodias): 42-52 in. Above slaty blue; tips of wings darker; top of head white (black in immatures); sides of head black, with several long black feathers during breeding season; long, loose feathers (not on immature) on sides of neck and upper back; below black-and-white-streaked; long legs and neck. In flight legs extended backward, long neck kinked. Voice a low-pitched, hoarse walk. Commonly nests in colonies in tall trees, cliffs, and in both salt and freshwater marshes.

Frequents sloughs, marshes, meadows, lake margins, and tideflats. Widespread R. In the Yosemite region occasionally seen along the lower Tuolumne River, Merced River in Yosemite Valley and below, and at Merced Lake, Glen Aulin, and Tuolumne Meadows.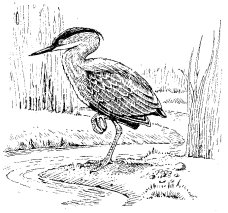 GREEN HERON

GREEN HERON (Butorides virescens): 16-18 in. Back and sides of neck and face chestnut; dark wings with bluish cast; top of head black, tinged with green, with feathers long and loose; below brownish-gray; legs greenish-yellow. Flight somewhat crow-like. Voice a hoarse squawk. A solitary nester. Favors willow-bordered bodies of fresh water. Summer R.; M. widely. C.V. in the Yosemite region. Recorded at Merced Lake and Yosemite Valley.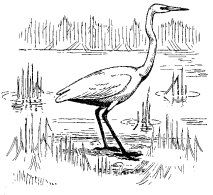 COMMON EGRET

COMMON EGRET (Casmerodius albus): 37-42 in. Plumage entirely white; long plumes extend from upper back to beyond tail in breeding season; long black legs and feet; long yellow bill (yellow reduced in immatures). Often nests in large trees.

Frequents marshes, wet meadows, lake margins, and tideflats. Wanders extensively. C.V. in Yosemite region; occasionally seen in Yosemite Valley.

SNOWY EGRET (Leucophoyx Chula): 20-27 in. Similar to common egret except smaller; plumes on back recurved; legs and bill black; webs of feet yellow. Nests in dense tules.

C.V. in Yosemite region.



---
Next: Goose-like Birds • Contents • Previous: Pelican-like Birds
http://www.yosemite.ca.us/library/birds_of_yosemite/storks.html