Yosemite > Library > Birds of Yosemite > Vireos >
Next: Wood Warblers • Contents • Previous: Shrikes
Birds of Yosemite National Park (1954, 1963) by Cyril A. Stebbins and Robert C. Stebbins
---
VIREOS: Family Vireonidae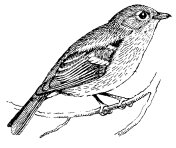 HUTTON'S VIREO

HUTTON'S VIREO (Vireo huttoni): 4 1/4-4 3/4 in. Above olive-gray; below yellowish; two whitish wing-bars; head color lightens between eye and bill; whitish eye-ring, interrupted above. Does not jerk wings like ruby-crowned kinglet.

Frequents chiefly non-deciduous oaks in the Upper Sonoran and Transition life zones. R. on the western slope of the Sierra. Has been observed in the Yosemite region up to 5,800 feet.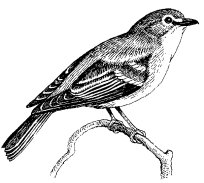 SOLITARY VIREO

SOLITARY VIREO (Vireo solitarius): 5-6 in. Above gray, tinged with olive; below white; sides tinged with yellowish; white lores and ring around eye; whitish wing-bars. Song: Jimmy —come here! Hurry up!

Frequents oak and coniferous forests chiefly in the Transition life zone but also in adjacent zones. S. V. in the Sierra; in lower, warmer areas in winter. In the Yosemite region has been recorded as far east as Indian Canyon and Merced Lake. Fairly common on the floor of Yosemite Valley.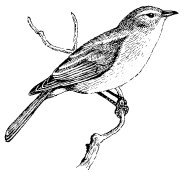 WARBLING VIREO

WARBLING VIREO (Vireo gilvus): 5-6 in. Above olive-gray; below white; tinge of yellow on sides; white line over eye. Song a series of warbled notes, often repeated. Usually solitary.

Frequents deciduous trees such as willows, cottonwoods, and alders. Seeks higher levels in trees than the other vireos. In the Sierra S. V. chiefly in the Upper Sonoran to the Canadian life zone. Found on both slopes of the Yosemite region but most common on the western slope.



---
Next: Wood Warblers • Contents • Previous: Shrikes
http://www.yosemite.ca.us/library/birds_of_yosemite/vireos.html