Yosemite > Library > Bits of Travel at Home >
---
Bits of Travel at Home (1878) by Helen Hunt Jackson
| | |
| --- | --- |
| | |
---
Ahwahnechee Place Names
The following Yosemite Valley place names are mentioned in Bits of Travel at Home. The Ahwahnechee place name (using the author's spelling) is followed by the European place name.
| | |
| --- | --- |
| Ah-wah-ne | Yosemite Valley |
| Ah-wah-ne-chee | Yosemite Valley people |
| Tis-sa-ack | Half Dome (South Dome) |
| Loya | Sentinel Rock |
| Tutocanula or Tu-tock-ah-nu-lah | El Capitan |
| Ah-wi-yah | Mirror Lake |
| Patillima or Er-na-ting Law-oo-too | Glacier Point |
| Pohono | Bridalveil Fall |
| Pi-wy-ack* | Vernal Fall* |
| Yo-wi-he | Nevada Fall |
| Mah-tah | Liberty Cap |
——
*The correct Ahwahneechee name for Vernal Fall is Yan-o-pah. Pi-wy-ack refers to Tenaya Lake and was mistakenly transfered as the name for Vernal Fall. See Bunnell, Discovery of the Yosemite (1880), p. 207.
---
About the Author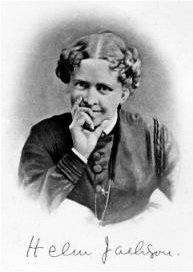 Born Helen Maria Fiske October 18, 1830 in Amherst, Mass. to Nathan and Deborah Fiske. Her father was a minister and professor of languages and philosophy at Amherst College. In 1852, she married an army officer, Capt. Edward B. Hunt, who died in 1863, as did their child two years later. After these tragedies, she started writing poems, then wrote about her travels, first as articles then as books.
In May 1872 Helen Hunt traveled from New York to San Francisco with her friend Sarah Woolsey, who later wrote children's literature as "Susan Coolidge." They traveled on the newly-completed transcontinental railroad. In California, they traveled by stage to Yosemite Valley and Mariposa Grove. The trip was expensive, but her book contracts paid for her travels. The first part of his books is a detailed account of the trip. Sarah's account of the trip, a brief how-to travel guide, appeared as "A Few Hints on the California Journey," Scribner's Monthly (May 1873).
In 1876 Helen Hunt married William Sharpless Jackson, a Quaker and Banker, and they lived in Colorado Springs. She continued to write travel books. She started to write articles about mistreatment of the American Indians, and a book, A Century of Dishonor (1881), but they had little effect. Then then wrote a romantic and tender novel, Ramona (1884), her most famous book. Although melodramatic, Ramona stired outrage about the fate of the Native American and had a major effect on their treatment. The novel was about a half Indian Alessandro who elopes with Ramona, the daughter of a wealthy rancher. They meet one tragedy after another, but I won't give away the ending.
Many of Helen Hunt Jackson's books, including Bits of Travel at Home were published under her pen name "H. H." She also wrote under other pen names, including "Saxe Holm." Helen Hunt Jackson died of stomach cancer in San Francisco on August 12, 1885. Her papers are at Colorado College, Colorado Springs.
---
Bibliographical Information
Helen Hunt Jackson (1830-1885), Bits of Travel at Home (Boston: Roberts Brothers, 1878). vi+413+4 ad pages. Frontispiece with tissue guard. 15 cm. Bound in terra cotta red cloth with gilt lettering and embossed. Edges stained red. Cream endpapers with ad on inside front cover. LCCN rc 01000865. Library of Congress call number F866.J13. Bibliography of American Literature (BAL) 10434.
Reprinted by Roberts Brothers, 1886, 1887, and 1891, and by Boston, Little, Brown & Co., 1904 and 1909. Parts of this book were reprinted as a limited edition of 450 copies as Ah-Wah-Ne Days: A Visit to the Yosemite Valley in 1872 (San Francisco: Book Club of California, 1971). Reprinted 1992 for libraries by Reprint Services Corporation. Print-on-demand copies from microfilm available from UMI (WB1-WA20028-001). The original 1878 edition is reproduced here. This book is not to be confused with her earlier book, Bits of Travel, which is about her European travels.
Digitized by Dan Anderson, May 2005, from a personal copy. These files may be used for any non-commercial purpose, provided this notice is left intact.
—Dan Anderson, www.yosemite.ca.us
---
http://www.yosemite.ca.us/library/bits_of_travel_at_home/