Yosemite > Library > Broadleaved Trees > California Laurel >
Next: Western Chokecherry • Contents • Previous: Blue Oak
Broadleaved Trees of Yosemite National Park (1947) by C. Frank Brockman
---
CALIFORNIA LAUREL
Umbellularia californica (Hook & Arn.) Nutt. — Laurel Family (Lauraceae)
This tree is rendered distinctive by the thick, glossy, short-stemmed, evergreen leaves which exude a penetrating, camphor-like odor when crushed. The leaves are alternate on the branches, three to six inches long, and from one-half to one and one-half inches wide at maturity. New leaves are produced throughout the summer and they persist on the tree from two to, occasionally, six years. In Yosemite National Park the California laurel, which is also commonly known as pepperwood, California bay, and Oregon myrtle, is quite common in moist, rocky soils at the base of cliffs bordering canyons at elevations from 3,000 to 5,000 feet above sea level. It may be readily noted along the highway above the Arch Rock Entrance as well as along the lower portions of many trails leading from the Valley floor to the rim.
It grows naturally along the Coast Ranges from southwestern Oregon, and inland from the Siskiyous in Oregon and the upper Sacramento Valley south along the Sierra to southern California at elevations varying from sea level (in the north) to 4,000 and 5,000 feet. In some parts of this range, particularly in southwestern Oregon where conditions are suited to its best development, it is an important broadleaved tree and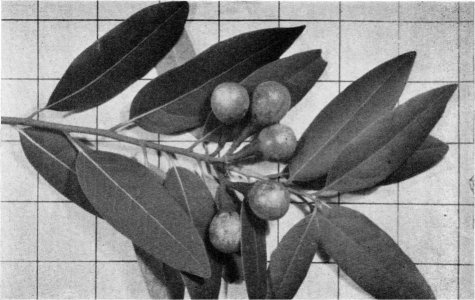 [click to enlarge]

Photo by Brockman

Foliage and fruit of California laurel (Inch squares on background)

may reach three feet or more in diameter. However, in Yosemite National Park it is a small tree. Here, although larger specimens may be found, it is usually twenty to thirty feet tall and rarely more than six inches in diameter with erect, slender branches forming a loose, open, and narrow crown. It often takes the form of a many-stemmed shrub ten to fifteen feet tall — particularly in moist, shaded locations along streams in protected canyon bottoms. The bark, smooth on young trees and scaly on old trunks, is thin and varies from a dull greenish-brown to reddish-brown in color. Smaller branches are light green in color.

Loose clusters of small, rather inconspicuous yellow flowers appear in the spring. The interesting, yellowish-green fruit which resembles a large olive in appearance — is a conspicuous feature in the late summer and early fall. It consists of a large, thin-shelled, light brown seed surrounded by a thick, fleshy covering. It is ripe about October, at which time it drops from the tree.



---
Next: Western Chokecherry • Contents • Previous: Blue Oak
http://www.yosemite.ca.us/library/broadleaved_trees/california_laurel.html