Yosemite > Library > Broadleaved Trees > White Alder >
Next: California Black Oak • Contents • Previous: Quaking Aspen
Broadleaved Trees of Yosemite National Park (1947) by C. Frank Brockman
---
WHITE ALDER
Alnus rhombifolia Nutt. — Birch Family (Betulaceae)
This is one of the most common trees of the Transition Zone where it is found in considerable abundance in moist sandy soils bordering streams, up to 4,500 feet in elevation. It is particularly common at Happy Isles, about Mirror Lake, in many places along the banks of the Merced River in Yosemite Valley, while Alder Creek near Wawona owes its name to the abundance of these trees at certain locations along its course.
The white alder can be readily identified by its smooth, steel-gray bark (on young trees) which become scaly and ridged with age, and the conspicuous, cone-like features—one-quarter to one-half inch long—which bear the seeds, and which are known as strobiles.
The leaves are alternate on the branches, are large (one and one-half to two inches wide and from two to three inches long), a dark lustrous green on the upper surface, ovate in outline with coarsely toothed margins and prominent veins extending to the margins.
Both staminate and pistillate flowers, while borne in separate clusters, are found on the same tree. Both are partially formed in the summer previous to maturity. The former are contained in long, pendent, tassel-like clusters which are very conspicuous in the late winter and early spring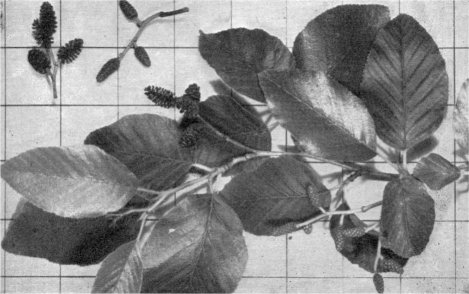 [click to enlarge]

Photo by Brockman

Foliage and strobiles of white alder (Inch squares on background)

before the opening of the leaves. At that time they are from four to six inches in length. The latter first appear as small green affairs contained in loose clusters of three to four in number, later enlarging to oblong compact, green "cones." At that time they are about one-half inch in length. The white alder is a prolific seed producer. The seeds, contained between the scales of the strobiles, are mature by midsummer but are not liberated until the following winter, or even spring. At that time the "cones" are hard, woody, and black. After liberating the seeds they often litter the ground below the trees or remain hanging from the branches for a considerable time, thus furnishing a ready clue to the identity of the white alder throughout most of the year.

Newly produced twigs are smooth, chestnut-brown in color, more or less triangular in cross section, and characterized by widely separated, elongated specks. The crown is broad and open with long branches, drooping toward their ends, extending from the trunk.

One of the best characters for winter identification of the white alder are the large buds. They are produced alternately on the twigs, and like all alders, are stalked. No other broad-leaved tree in Yosemite National Park has stalked buds. In addition to this distinctive feature, the buds are dark brown to dull red in color, are coated with a light colored fuzz, and the scales, instead of being numerous and overlapping, are only two or three in number and valvate in character. The leaf scars, somewhat raised and half round in outline, are characterized by three vascular bundle scars.

It is a tree of rapid growth, and because it can endure considerable competition, often forms dense thickets. It is not a long-lived species and soon attains a maximum diameter of 12 to 15 inches and a height of about 50 feet. Trees of maximum size are rarely over fifty years of age.



---
Next: California Black Oak • Contents • Previous: Quaking Aspen
http://www.yosemite.ca.us/library/broadleaved_trees/white_alder.html