Yosemite > Library > Last of the California Rangers > 28. A Psychic Experience >
Next: 29. California Duels • Contents • Previous: 27. Yosemite
The Last of the California Rangers (1928) by Jill L. Cossley-Batt
---
XXVIII
A PSYCHIC EXPERIENCE
By 1886, the Central Pacific Railway had replaced the stage and pony-carriage, even in Mariposa, and the thousands of Chinese who had been imported to assist in the labor of this great engineering achievement were seeking other work. At that time Captain Howard was again Deputy Sheriff of Mariposa County, which office he had filled for several terms. One day in December he experienced a vivid dream that helped to solve a murder mystery in remarkable fashion. Whatever the explanation, it was one of the interesting incidents in his life, and may be recommended to the attention of students of psychological phenomena.
The power of the subconscious mind over our lives is still an unsolved problem. One person in a million born into this world is endowed with what seems to be supernatural foresight. Thousands endeavor to obtain this gift through concentration—to develop what is known as the "sixth sense." Some of them succeed in reaching a very high plane of thought; nevertheless the endowed one's power of foresight seems to act without voluntary concentration. William J. Howard always possessed this gift, and that explains his becoming generally known as "The Mysterious Sheriff."
Some time in the year 1886, an extremely handsome Frenchwoman arrived from Nevada to take up her residence in Mariposa County. She was exquisitely dressed, and men raved over her beauty. On a chain around her neck she wore a magnificent cross, which was set with three large diamonds. Introducing herself as Mrs. Thelma Savageau, she purchased a small cottage and furnished it in a most artistic manner.
At this time Charlie Bogan was Mariposa's prominent merchant, and in his store the pretty Frenchwoman was introduced to Louis Herbert. Herbert had migrated from France to California in 1849, and after a few months' mining had turned to sheep-herding for a man named Ray. Recently he had purchased a ranch near the Howard home, where he made a comfortable living by growing vegetables and grapes, and raising chickens. Three times a week Louis disposed of his products in Mariposa, chiefly to Charlie Bogan. The little Frenchman was intelligent and well-educated,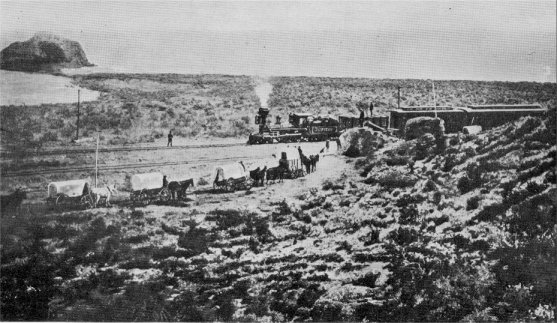 Courtesy of the Southern Pacific Railway Company

[click to enlarge]
THE FIRST TRAIN TO REACH THE PACIFIC AFTER THE CONTINENT HAD BEEN SPANNED BY RAILS IN THE DAYS OF THE COVERED WAGON


but became acquainted with John Barleycorn and wasted a great deal of his money.

Being impulsive and in great need of feminine companionship, Louis, on introduction to Mrs. Savageau, became so infatuated that he asked her to come and take care of him in exchange for a home, and at his death she would be sole heiress to all his worldly possessions.

Thelma Savageau accepted the proposition, and articles of agreement were drawn up by District Attorney Newman Jones, who witnessed the two signatures, and who was shrewd enough to insert the phrase, "during my natural life." After the contract was signed, the woman stored her furniture and accompanied Louis to his ranch, where she took up her abode.

Several weeks later a handsome young man of athletic build appeared upon the scene, and gave his name as Peter Savageau. He explained that the woman living with Louis Herbert was his wife, but seemed to show no resentment respecting her actions. He, being a practical miner, had traveled from Mona to chance his luck in Mariposa County, and was on his way to Cathey's Valley to be superintendent of a mine. After several months of steady work there, the mine proved to be worthless, so Peter returned to the Herbert ranch, where, in spite of the strangeness of their relationship, the three lived for a short time in apparent harmony.

In carrying out his official duties as Deputy-Sheriff, one Saturday morning in December, 1886, Captain Howard started for Cathey's Valley. It was a glorious day, neither too hot nor too cold, and as the sun cast its vivid rays across the mountains, brilliant colorings met the gaze of the artistic eye. However, this keen-eyed servant of the Government had little time to admire the wonders of nature, so he quickened the pace of his horse and was soon passing through Princetown. Here he met the little Frenchman, who looked as tho he had been drinking too freely, and William said to him, "Louis, you had better look out or Savageau will kill you." Placing his hand on his pocket, Louis answered, "Ah, no!" hinting that he had a pistol and could defend himself.

Howard said no more, but continued his ride to a point six miles further on, where he carried out his official business. By that time the incident just related had apparently been swept completely from his mind.

Returning to his home rather late that evening, he dismounted and entrusted his horse to one of his sons. On entering the house, after greeting his wife and children, he felt very tired; so, while supper was being prepared, he crept to a quiet room and stretched himself out on a lounge. He was soon in a deep sleep, when an extraordinarily vivid dream came to him, and he seemed to become an eye-witness to a terrible tragedy.

An hour later he was awakened by the supper call, and at table could not refrain from telling his children that they would not see Louis alive again. On hearing this statement the children were somewhat startled, and appeared curious to obtain more information, so they gathered around him as he related the realistic dream he had had while sleeping. What follows is in Captain Howard's own words:

"Suddenly I arrived at Louis' ranch, and saw him come out of the barn and make his way toward the house. There stood a large tree by the side of the path leading to the house, and behind this crouched Savageau, pistol in hand, awaiting the approach of the unsuspecting man, while his wife Thelma stood at the kitchen door urging him to shoot. When Louis reached the tree he seemed to feel his danger, and turned toward Savageau, who quickly raised his weapon, fired, and Louis fell forward on his face. After a few seconds he made a feeble effort to rise, and Savageau drew back the hammer of his pistol, but as the body fell back again he did not fire. Again there was a faint attempt on the part of Louis to rise, and once more Savageau cocked his weapon for a 'finishing touch'; however, before he could pull the trigger his victim's dead body fell back, quivering at his feet.

"Savageau then dragged the body near to the piggery, where he cut the flesh from the bones and fed it to the hogs. Then he burnt the bones in a furnace, which was used for heating water to prepare the pigs' food. In his agitation and eagerness to destroy all evidence of the crime, he scattered the ashes around, but left the bones of the head undisturbed."

On hearing the story, the children laughed, saying, "Why, Papa, it was only a dream." As hours passed and this vision could not be effaced from his mind, Howard determined to make an investigation, and the next morning he took his youngest son with him to his office at the court-house. When passing the Herbert ranch, they saw the son of Savageau riding a donkey, and Howard said, "See, he is riding Louis' Jack."

While they exchanged words with the lad, his father, Peter Savageau, appeared, and said nervously, "The gray mare has got loose with forty feet of rope on her. Should you find her, take off the rope and set her free."

Just outside of the court-house the Howards met Charlie Bogan, to whom William remarked, "You'll never see Louis Herbert alive again, for last night I had a dream that he was killed by Savageau." Charlie gave a hearty Irish laugh and said, "What liquor have you been drinking?"

On arrival at his office, Captain Howard related the dream to his fellow officers, Judge Corcoran, District Attorney Newman Jones, and Sheriff Mullery, and when he concluded by saying, "You'll not see Louis again," they all joined in a laugh at his expense. This ridicule and refusal on the part of the officers to regard the story seriously, however, did not shake Howard's belief in his dream.

Sunday, Monday and Tuesday passed without the little Frenchman putting in an appearance, so his friends began to feel uneasy, and speculation arose as to whether some tragedy had not in reality occurred. The following Wednesday Mr. and Mrs. Savageau drove into the town with a four-horse team, and proceeded to load the woman's furniture on the wagon. Even the officers were becoming suspicious by this time, and Judge Corcoran said to William, "Go and see Savageau and ask him what has become of Louis."

When asked this question, Savageau said little, for his wife did all the talking. "Louis is a drunken old fellow," she said, "and I gave him fifty dollars to go away. He has gone to herd sheep for Ray."

This was a plausible answer, as Louis had herded sheep for Ray in the early days; therefore it had to be accepted for the time, at least. When Howard reported it to the other officers, they said to William, "You had better put more water with your wine." This, however, did not weaken Howard's own belief in his dream; he regarded it as an opportunity, in fact, to prove to the officers and others that it is possible for dreams to come true.

"Gentlemen," he said, "you know I have never taken liquor in my life, and I do not smoke; but I'll bet a treat for the whole crowd that within three hours I will have the bones of Louis here."

District Attorney Jones took the bet, and away the dreamer went.

Savageau and his wife were still in Mariposa loading furniture. This gave Howard a chance to reach the Herbert ranch and accomplish his search before they arrived upon the scene. Riding his faithful horse at full speed, he soon arrived at the ranch, where, after dismounting, he tied the animal to a fence. Looking around, he readily recognized the surroundings as the place where he had seen the crime committed in his dream. Making direct for the furnace, he rolled up his shirt-sleeves, groped among the ashes with his hands, and brought to view the charred fragments of a human skull. These he hastily transferred to his handkerchief, then made for the place where he had seen Savageau feed the pigs. Here he found more bones, and, putting them with the others, he set out on his return journey to Mariposa.

Within two hours and a half from the time of his departure, he arrived at the court-house with full evidence in his possession. The contents of the handkerchief were examined by Doctors Turner and Kearney, who pronounced them human bones, and in the presence of assembled officials, Attorney Newman Jones declared that Deputy-Sheriff Howard had won his bet.

A warrant was issued at once for the arrest of Savageau and his wife, and early next morning, Thursday, William and Sheriff Mullery arrived at the Herbert ranch, where they found Savageau walking around in his underclothing. William approached him, saying:

"Mr. Savageau, I have a warrant for you."

"Let me go into the house and get my pants," replied Savageau.

"I will bring your pants out to you," said William, quietly drawing near him, for the officer was taking no chances.

Leaving his prisoner in care of Sheriff Mullery, William entered the house. He found Thelma Savageau in bed, and said to her, "Mrs. Savageau, I have a warrant for you." She answered in a most emphatic manner, "Step out while I dress."

After the husband and wife were dressed, they both went quietly with the officers to Mariposa, where Savageau was placed in jail and his wife in the hospital for safe keeping.

Altho only a miner, Peter Savageau was well educated, and at some time during his life had mined with Pat Reddy, one of the most celebrated lawyers in California. William soon gained the confidence of his prisoners, because he made it a policy to treat them well. Occasionally he chatted with Savageau, and one day said to him, "If you can get Pat Reddy to defend you, and what you say is true, he can get you clear." Then, looking into his big blue eyes, he continued:

"Savageau, why in the world didn't you burn up Louis' head."

"My God! where is it?" cried Savageau, instantly.

"Outside," answered Deputy Sheriff Howard.

"Why," exclaimed the murderer, "I piled enough wood on it to burn a dozen heads!"

Then William described the scene he had witnessed in his sleep, and after listening closely, Savageau said, "Why, you must have been watching the whole affair."

"No," replied Howard; "it was just a dream."

Taking out his notebook, William commenced to write, while Savageau made a full confession of the crime, with only one exception—he completely exonerated the woman. Many people felt extremely sorry for Peter Savageau, however, because they knew that his wife had forced him to kill Louis Herbert.

While Savageau was waiting trial, Thelma, his wife, was allowed to visit him, and on two occasions she offered Howard a bribe of money and jewels if he would not testify against her husband.

The trial took place in February, 1887, and Savageau was convicted of first-degree murder. Later the jury appealed to the Judge for mercy, and the defendant was sent to an Quentin prison for life. Mrs. Savageau and her son Alexander left the State.

It is a remarkable fact that the murder of Louis Herbert took place at the same hour that the dream came to Captain Howard, and it certainly goes a long way toward persuading one that it is possible for dreams to come true.



---
Next: 29. California Duels • Contents • Previous: 27. Yosemite
http://www.yosemite.ca.us/library/california_rangers/psychic_experience.html