Yosemite > Library > Geologic Story of Yosemite > Foreword >
Next: Table of Contents • Contents • Previous: Title page
The Geologic Story of Yosemite National Park (1987) by N. King Huber
---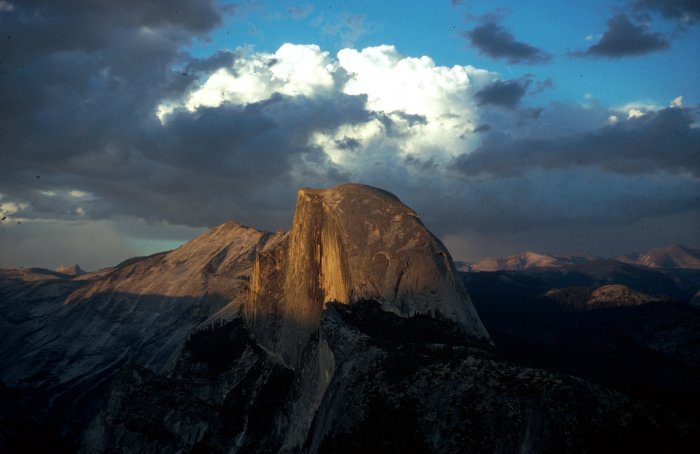 HALF DOME AT SUNSET

"On the south-east stands the majestic Mount Tis-sa-ack, or "South Dome" * * *. Almost one-half of this immense mass, either from some convulsion of nature, or "Time's effacing fingers,' has fallen over * * *. Yet proudly, aye, defiantly erect, it still holds its noble head, and is not only the highest of all those around, but is the greatest attraction of the valley." —J. M. Hutchings, "Scenes of Wonder and Curiosity in California," 1870.
FOREWORD
Within 150 years, Yosemite has moved from great obscurity to worldwide fame as one of the most visited of our national parks. As a remarkable place where people can enjoy unparalleled scenes of natural beauty and where many easily observed geologic features are concentrated, the park is rivaled by few other areas on the planet. The majesty and immense variety of these features have inspired artists and photographers, intrigued tourists, and stirred controversy among geologists.
Field studies in the Yosemite area have contributed to the development of our ideas about geologic processes, including the different actions of streams and glaciers in the evolution of the landscape, and the formation of granite, the basic bedrock of much of the Earth's continents. The park's role as a natural laboratory for geologic research cannot be overemphasized, and its investigation has led to many landmark studies by U.S. Geological Survey geologists over the past 70 years. In 1913, the first detailed program of research on the geology of the park and the origin of Yosemite Valley was begun by François Matthes and Frank Calkins. Their work, along with that of later generations of Survey geologists, myself included, serves as the basis for our present understanding of the geologic history of Yosemite and of the processes that formed and continue to mold its landscape.
This book, which makes available in one volume a comprehensive summary of the current geologic knowledge of Yosemite National Park, is an excellent example of the Survey's continuing effort to provide earth-science information in the public service.

Dallas L. Peck
Director, U.S. Geological Survey
---
Next: Table of Contents • Contents • Previous: Title page
http://www.yosemite.ca.us/library/geologic_story_of_yosemite/foreword.html