Yosemite > Library > Overland Journey >
An Overland Journey from New York to San Francisco in the Summer of 1859 by Horace Greeley (1860)
---
| | |
| --- | --- |
| | Book Advertisements (not reproduced) |
---
About the Author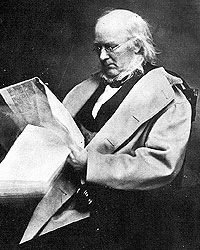 Horace Greeley
Mr. Greeley, editor of the New York Tribune, visited Yosemite Valley in 1859 during a trip out west. The article is significant as it was the first widely-distributed news about Yosemite, and by a reputable person, that brought Yosemite to attention of many Easterners for the first time. Except for an 1856 article in The Country Gentleman, all previous articles were published in California newspapers and did not spread beyond the state. Greeley in his article generally praises Yosemite Valley. However, he thought Yosemite Falls was as a "Humbug," not realizing Yosemite Falls usually dry up by September, when he visited, long after the spring snow melt is gone.
Horace Greeley traveled out west on the just-opened Pike's Peak Express Leavenworh-Denver route. A map of the route description of the route appears in Root & Hickman "Pike's Peak Express Companies," Kansas Historical Quarterly 13:3-4 (1944). The Kansas Territory then included much of Colorado.
James Hutchings, in his book In the Heart of the Sierras chapter 21 describes Greeley's trip to Yosemite, including his painful marathon horseback ride to Yosemite in one day.
---
Bibliographical Information
Horace Greeley (1811 - 1872), An Overland Journey from New York to San Francisco in the Summer of 1859 (New York: C. M. Saxton, Barker & Co., 1860). 386 pages + 10 pages of ads. 20 cm. Brown cloth-covered boards. Library of Congress Call Number F593.G79. Bibliographies: Cowan p. 247, Graff 1635, Howes G355, Wagner-Camp-Becker 358, Sabin 28940.
Reprinted 1999 as a facsimile of the original edition by University of Nebraska Press, with an added introduction by Jo Ann Manfra. Trade paperback (ISBN 0-80232-7079-8). Most page images of the original printing are available online at University of Michigan's "Making of America Books," at http://name.umdl.umich.edu/AFK4378 (several pages were skipped and other pages were scanned twice).
Digitized by Dan Anderson, April 2005. These files may be used for any non-commercial purpose, provided this notice is left intact.
—Dan Anderson, www.yosemite.ca.us
---
http://www.yosemite.ca.us/library/greeley/