Yosemite > Library > Hutchings' Illustrated California Magazine >
---
Hutchings' Illustrated California Magazine 1-5 (1856-1861)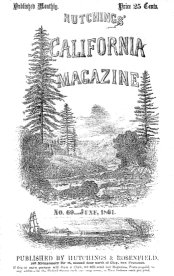 Hutchings' Illustrated California Magazine was published by James M. Hutchings from 1856 to 1861 with articles about California, including several about Yosemite Valley and the Sierra Nevada. Listed for a few years are selected articles, usually those cited elsewhere. However, many other worthwhile articles are not listed (send me a message if you see any articles I should list—in fact if you are willing to go through and pick out notable articles, let me know also). Most articles without bylines were written by Hutchings. The files below are big (1-11MB each), so be patient downloading each issue. Below is the history of the Hutchings' Illustrated California Magazine.
Volume I (July 1856 - June 1857)
Volume II (July 1857 - June 1858)

Volume III (July 1858 - June 1859)

Volume IV (July 1859 - June 1860)
Volume V (July 1860 - June 1861)
---
History of the Hutchings' Illustrated California Magazine
James Mason Hutchings was born February 10, 1820 in England. He emmigrated to the U.S. in 1848, then went to California in 1849 during the Gold Rush. He became wealthy as a miner, lost it all in a bank failure, then became wealthy again from publishing. In 1855, seeking material for his magazine, Hutchings lead the first tourist party into Yosemite, then wrote about it in the October 1859 issue of his Hutchings' Illustrated California Magazine. This was the first illustrated article about Yosemite Valley, erasing much doubt about the scenic wonders of Yosemite Valley. Mr. Hutchings was one of the first settlers in Yosemite Valley, and was a tireless promoter of himself and Yosemite. For several years he ran a hotel in the Valley. Mr. Hutchings later wrote In the Heart of the Sierras, a comprehensive book about Yosemite based on his earlier magazine articles and books. Mr. Hutchings died while visiting Yosemite on October 31, 1902.
For more information about Hutchings and his California Magazine, see "Chapter II: James Mason Hutchings and His Scenes of Wonder and Curiosity; the Publicist-Innkeeper Who Brought Yosemite to the Attention of the World," in Yosemite's Yesterdays vol. 2 (Yosemite: Flying Spur Press, 1991) by Hank Johnston.
---
Bibliographical Information
Hutchings' Illustrated California Magazine (San Francisco: Hutchings &amp Rosenfield, Publishers, 1856-1861). 5v.: Ill., plates; 25 cm. Library of Congress call number AP2.H97.
Selected articles were reprinted in book form in 1962 by Roger R. Olmsted in Scenes of Wonder and Curiosity from Hutchings' California Magazine 1856-1861 (Berkeley: Howell-North, 1962) 413pp., ill.
Copies provided courtesy of Dr. Hal Rothman (1958-2007), formerly Professor of History at UNLV.
---
http://www.yosemite.ca.us/library/hutchings_california_magazine/