Yosemite > Library > Mother Lode Country > Foreword >
Next: Origin of Gold • Contents
A Guide to the Mother Lode Country (1948) by C. Frank Brockman
---
YOSEMITE NATURE NOTES
THE MONTHLY PUBLICATION OF
THE YOSEMITE NATURALIST DEPARTMENT
AND THE YOSEMITE NATURAL HISTORY ASSOCIATION, INC.
---
VOL. XXVII
January, 1948


Reprinted September, 1948

NO. 1

---
A Guide
to the
Mother Lode Country
By
C. FRANK BROCKMAN
Copyright 1948
Frank Brockman
SPECIAL NUMBER — PRICE 50 CENTS
---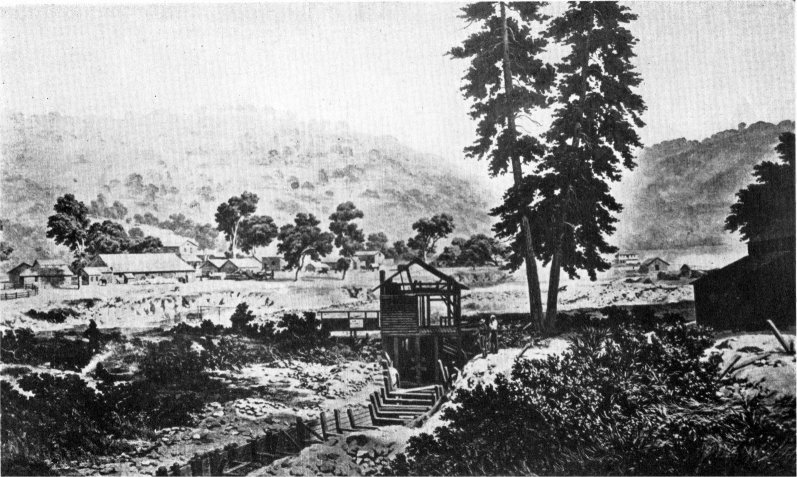 [click to enlarge]
| | |
| --- | --- |
| Sutter's Mill, Coloma. "Where it began", January 24, 1848. Copy of Nahl painting in State Library, Sacramento. | McCurry Photo |
FOREWORD
The epic story of the "days of '49" which centered in this region is amply documented in a number of more elaborate volumes (see list of references on page 49) but such books were designed for a purpose quite apart from this one. Since they treat the subject in greater detail they are necessarily of more formidable size and cost. Thus they have their greatest appeal to those whose interest in this region has already been aroused.
This booklet has been designed primarily for those whose interest in the Mother Lode Country is still dormant. It is offered as a sort of "appetizer for a more complete and satisfying "historical banquet" that one may enjoy by more detailed reading on the subject. And for those who wish to make personal explorations of the old towns of the Mother Lode area it is arranged to serve as a convenient ready reference for the motorist. Some such help is required by the uninitiated, for today, in driving through the region which contributed such a dramatic chapter to American history, one might otherwise fail to recognize the significance of its component parts. Many former towns which once resounded to the boisterous activity of thousands of gold seekers are now non-existent. Others appear only as skeletons of their former selves, or else their vigorous beginnings and vital heritage has been engulfed and submerged by the advancements and improvements of modern times.
Thus, this booklet has been designed merely as a "key" which, it is hoped, will unlock the door to the many interests of the Mother Lode Country. If it fulfills that purpose it may help its readers to peer into the dim recesses of the past and catch a brief glimpse of its history. Perhaps such a glimpse will be sufficiently revealing to encourage many to step boldly over that figurative threshold; to explore in greater detail and with greater understanding the epic chapter of those stirring times.
COVER ILLUSTRATION: Doorway, Adams Express Office, Volcano. Unless otherwise specified, all photos are by the author. The maps were drawn by Katharine J. Parker
---
Next: Origin of Gold • Contents
http://www.yosemite.ca.us/library/mother_lode_country/foreword.html