Yosemite > Library > Mountaineering >
---
Mountaineering in the Sierra Nevada
by Clarence King
Summary (Library of Congress)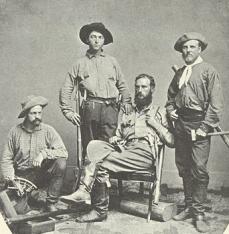 Brewer Party of 1864:
James T. Gardiner, Richard Cotter,
William H. Brewer, and Clarence King

Clarence King (1842-1901) of Rhode Island was a Yale-educated geologist and mining engineer who rode horseback across the continent in 1863. In California, he worked as a volunteer on Whitney's geological survey of the state, and he went on to a distinguished professional career. Mountaineering in the Sierra Nevada (originally published 1872) begins with a summary of the geological history of the Sierras and then recounts King's experiences in the range, both as a member of the Whitney expedition and as a mountain climber, 1864-1870. Highlights include his ascents of Mount Tyndall, Mount Shasta, and Mount Whitney; survey of Yosemite Valley; and field trips in the Merced Valley. King provides anecdotes of the mountains' people and natural history along the way.
Contents
---
Bibliographical Information
Clarence King (1842 - 1901), Mountaineering in the Sierra Nevada (New York: C. Scribner's sons, 1902). xi p., 1 l., 378 pages. 20 cm. Library of Congress Call Number F868.S5 K52. The text for Mountaineering in the Sierra Nevada was acquired from the The Library of Congress under the Evolution of the Conservation Movement section of the American Memory online exhibit. It was corrected and formatted into html by Dan Anderson, 2004. These files may be used for any non-commercial purpose, provided this notice is left intact.
—Dan Anderson, www.yosemite.ca.us
Mountaineering in the Sierra Nevada first appeared, in part, in The Atlantic Monthly, starting with the May 1871 issue (vol. 27, issue 163), and ending with the Dec. 1871 issue (chapters 1, 2, 3, 4, 6, 5, and 9, respectively). The Atlantic Monthly issues are available as page images from University of Michigan's Making of America (MOA) digital library. Mountaineering in the Sierra Nevada first appeared in book form in 1872, published by James Osgood & Co. of Boston (292 pages). This edition came in 2 forms, octavo in green or maroon cloth with gilt lettering and edge, and large paper copies. Sampson Low, Marston, Low, & Searle in London also printed the same edition in 1872 (with reset type).
A "fourth edition" appeared in 1874 with v + 308 pages. This edition has additional information about the Mount Whitney (namely, that Mr. King climbed the wrong Peak, and his climb, of 1873, of the real Mt. Whitney.) Note that at the 1994 Yosemite Association reprinting of Mountaineering (and perhaps others) omits this additional material and doesn't even inform the reader that Mr. King described climbing the wrong peak. The 1874 edition also added maps of California and Southern Sierra Nevada. Reprints of this edition were called the fifth through ninth edition, with no changes.
A genuinely new 1902 edition has xi+378 pages. It has minor corrections. The 1902 edition is used here.
---
http://www.yosemite.ca.us/library/mountaineering_in_the_sierra_nevada/