Yosemite > Library > Southern Sierra Miwok >
---
The Southern Sierra Miwok Language (1964), by Sylvia M. Broadbent
---
About the Author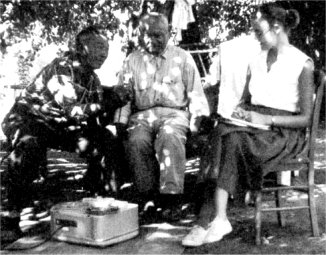 Castro Johnson, Charlie Rohan, and
Sylvia M. Broadbent. (p. 214)

Dr. Sylvia M. Broadbent prepared this grammar and dictionary based on her research and her Ph.D. dissertation, A Grammar of Southern Sierra Miwok, at the Department of Linguistics, University of California, Berkeley. She also wrote Central Sierra Miwok Dictionary in 1960. She received a B.A. and Ph.D. in Anthropology from Berkeley in 1952 and 1960. Dr. Broadbent is Professor Emerita at University of California Riverside. Her areas of interest are archaeology and ethnohistory of the Andean area, especially the Chibcha of Columbia; and North American Indians, especially California and the Desert West. She has also undertaken studies in descriptive and historical linguistics, especially American Indian languages and in language and culture, including relationships between linguistic findings and other kinds of anthropological research, and symbolism.

The Southern Sierra Miwok lived in Yosemite Valley, Mariposa, and the surrounding foothills. [Map.]



---
Bibliographical Information
Sylvia Marguerite Broadbent (1932-2015), The Southern Sierra Miwok Language, University of California Publications in Linguistics, v. 38 (Berkeley: University of California Press, 1964). 355pp. 26cm. LCCN 65-063429. Library of Congress Call Number P25 .C25 vol. 38. Short citation: UCPL 38. Based on her Ph.D. dissertation, A Grammar of Southern Sierra Miwok (1960). SIL Ethnologue language code: SKD.
Reviews:
Hamp, Eric P., "On Two Californian Grammars," International Journal of American Linguistics (IJAL) 32:176-88 (1966).
Hamp, Eric P., "Studies in Sierra Miwok," IJAL 32:236-41 (1966).
Rigsby, Bruce, "Review of The Southern Sierra Miwok Language by S. M. Broadbent," American Anthropologist 67:1596-7. by
Hill, Jane H., "Review of The Southern Sierra Miwok Language, by Sylvia Broadbent." Language 44:181-185 (1968).
An additional glossary with Southern Sierra Miwok texts is available in Howard Berman ed. Freeland's Central Sierra Miwok Myths, Report #3 Survey of California and Other Indian Languages (Berkeley: UC press, 1982). See also Craig D. Bates The Miwok in Yosemite - Southern Miwok Life, History, and Language in the Yosemite (Yosemite Association, 1996) for more Southern Sierra Miwok texts.
Partially converted to HTML by Dan Anderson, January 2005, from a copy at the UCSD Library.
—Dan Anderson, www.yosemite.ca.us
---
http://www.yosemite.ca.us/library/southern_sierra_miwok_language/