Yosemite > Library > Ahwahneechees >
---
The Ahwahneechees: A Story of the Yosemite Indians (1966) by John W. Bingaman
---
About the Author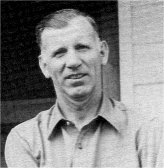 John Bingaman (From
Sargent"s Protecting Paradise).

John W. Bingaman was born June 18, 1896 in Ohio. He worked for the railroad in New York and California, then made tanks and combines during World War I. He first worked in Yosemite starting in 1918 as a packer and guide. John was appointed park ranger in 1921 and worked in several parts of Yosemite National Park. His wife Martha assisted her husband during the busy summer season. John retired in 1956. After retiring he lived in the desert in Southern California and spent summers touring various mountain areas and National Parks with their trailer. In retirement he wrote this book, Ahwahneechees, Guardians of the Yosemite: A Story of the First Rangers (1961), and Pathways: A Story of Trails and Men (1968). His autobiography is on pages 98-99 of Guardians of the Yosemite. John's second wife was Irene. John Bingaman died April 5, 1987 in Stockton, California.
---
Bibliographical Information

The Ahwahneechees A Story of the Yosemite Indians (Lodi, California: End-Kian Publishing Company, 1961), by John Walter Bingaman, Retired District Park Ranger (1896 - 1987). Copyright 1966 by John W. Bingaman. Second printing 1967. 46 pages. Illustrated. 22 cm. Paper wrappers. Saddle-stitched. LCCN 66-007879. Library of Congress call number E99.M69 B5.
---
Copyright
Digitized by Dan Anderson, September 2004, from a copy in the UCSD Library. These files may be used for any non-commercial purpose, provided this notice is left intact.
—Dan Anderson, www.yosemite.ca.us
Despite extensive research, I have been unable to identify all the possible rights holders of this book. Thus, some of the materials provided here online are made available under an assertion of fair use (17 U.S.C. §107). Therefore, this book is provided strictly for noncommercial educational and research purposes. The responsibility for making an independent legal assessment and independently securing any necessary permissions ultimately rests with persons desiring to use particular items in the context of the intended use.
I would like to learn more about materials in this book and would like to hear from individuals or institutions that have any additional information. Please contact Dan Anderson.
---
http://www.yosemite.ca.us/library/the_ahwahneechees/