Yosemite > Library > Wawona's Yesterdays > Pioneer Yosemite History Center >
Next: Sources • Contents • Previous: Chilnualna Falls
Wawona's Yesterdays (1961) by Shirley Sargent
---
PIONEER YOSEMITE HISTORY CENTER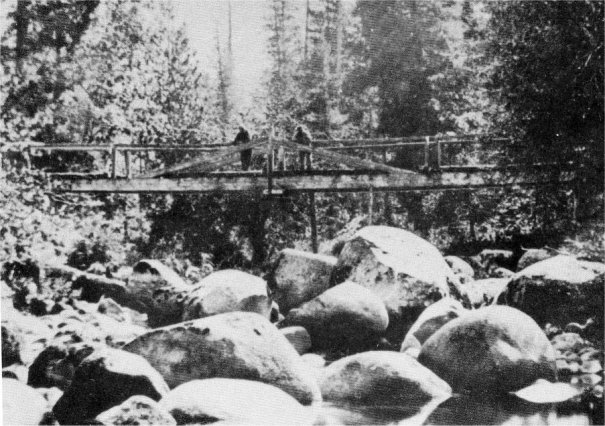 The Original Wawona Bridge — Photo Taken in 1866
For 103 years the covered bridge has spanned the South Fork of the Merced River at Wawona. From 1857 when Galen Clark built it, "it existed a simple, open structure (see cut) until 1875 when the Washburn brothers rebuilt it as a covered bridge reminiscent of their native Vermont. It carried all traffic—foot, horse, stage and car—until 1931 when modern concrete bridge on the new Wawona road replaced it.["]
After its back was broken by the damaging floods of 1955, the covered bridge was restored authentically and painstakingly, even to using square nails, 75 by the National Park Service under its ambitious Mission 66 program.
It stands now as the only covered bridge left in any National Park and one of the few in the West. It is used daily by horses and visitors as the central feature of the Pioneer Yosemite History Center. On the south side of the river in the old wagon shop are historical exhibits showing the transportation used by early pioneers. On the north side is a collection of authentic, historic buildings, furnished to show the type of housing the pioneers had—including the fieldstone jail.
The Pioneer Center which opened officially in 1961, attracts many visitors who appreciate its unique historical values. It is significant that these old buildings are gathered together at Wawona where the first pioneer activity of any magnitude took place in the early 1850's. Exhibits, self-guiding pamphlets and tape recordings in each building assure visitors of sharing the history of Yosemite and its human builders.
---
Next: Sources • Contents • Previous: Chilnualna Falls
http://www.yosemite.ca.us/library/wawonas_yesterdays/pioneer_yosemite_history_center.html