Yosemite > Library > Wawona's Yesterdays > The Washburns >
CalHotels.US Lowest Hotel Rates Guaranteed. Click Here For Yours!
Hotel photos, maps, reviews, & discount rates.
U.S. Hotels in California (Yosemite, L. A., San Francisco ), AL, AK, AR, AS, AZ, CA, CO, CT, DC, DE, FL, FM, GA, GU, HI, ID, IL, IN, IA, KS, KY, LA, ME, MD, MA, MI, MN, MS, MO, MT, NE, NH, NJ, NY, OK, NV, MH, MP, NM, NC, ND, OH, OR, PA, PR, PW, RI, SC, SD, TN, TX, UT, VT, VA, VI WA, WV, WI, WY
Next: Homesteaders • Contents • Previous: First Settler
Wawona's Yesterdays (1961) by Shirley Sargent
---
THE WASHBURNS
There were fourteen Washburn brothers and half brothers in Putney, Vermont. Three of them came to California to seek their fortunes and found modest ones in a mine and general store at Mormon Bar, two miles from Mariposa. Edward, John and Henry Washburn were stalwart, bearded men with pioneering, adventurous spirits. Their mine and store weren't challenging enough so they improved the Chowchilla Mountain Road from Mariposa to Wawona and, on December 26,1874, purchased the stopping place then known as Clark and Moore's. 15
Wawona was called Clark's Station, Clark and Moore's, and Big Tree Station, but was named permanently Wawona, the Indian word for Big Tree, by Jean Bruce (Mrs. Henry) Washburn in 1884. 16 [Editor's note: this is not true. Wawō'na is the Indian word for Evening Primrose (Boisduvalia densiflora). See Barrett & Gifford Miwok Material Culture, p. 152. —dea]
The Washburns bought the lodging house itself, the open bridge which they covered, irrigation ditch, sawmill, barn and 160 forested acres. The original hotel burned to the ground in 1878, but, undaunted, the brothers proceeded to erect in 1879 a new 140- by 32-foot hotel building, called the Long White. By the time U.S. Grant visited later that year, cedar trees had been planted and a large fountain installed. 17
Partnerships with Wm. Coffman, E. W. Chapman, Charles and John Bruce were short-lived as the three brothers made a good, ambitious team. They not only ran the hotel, but also operated a winter ranch near Madera, the Wawona Road, which they built to Yosemite Valley in 1875, and the Yosemite Stage and Turnpike Company which they formed in 1882. 15
Because of its isolated location, the hotel had to be self-sufficient. A post office was established about 1886; telephones came soon after 1905, electricity in 1908. Springs, wells, a large irrigation ditch supplying water for cattle, hogs, sheep, horses as well as crops of hay and timothy in the
The Washburn Brothers—
Julius, Henry, John, Edward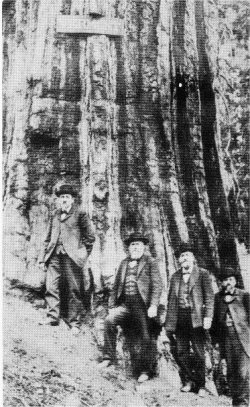 extensive meadows were developed. There was a store, a saloon, a truck garden, an apple orchard and a bear cage that was used occasionally for a jail! 15

In his 1886 book, In the Heart of Sierras, James Hutchings described the Wawona scene eloquently. "The very instant the bridge is crossed, on the way to the hotel, the whole place seems bristling with business, and business energy. Conveyances of all kinds, from a sulky to whole rows of passenger coaches, capable of carrying from one to eighteen or twenty persons each, at a load, come into sight. From some the horses are just being taken out, while others are being hitched up. Hay and grain wagons; freight wagons coming and going; horses with or without harness; stables for a hundred animals; blacksmiths' shops, carriage and paint shops, laundries and other buildings, look at us from as many different stand-points."

The Washburn brothers superintended all of this together, but each had a few specific jobs. Henry ran the stage lines and was the contact man, making frequent business trips and arranging publicity. Edward P., the bachelor brother, kept the books and superintended the help, meals and rooms in such a way as to make guests happy, comfortable and eager to come back another time. John S., who greatly resembled General Grant, did the bookings and ran the outside—gardens, ice, water, firewood. etc. Clarence Washburn, John's son, remembers that the brothers "all pulled together as a team and each could and did handle any hotel job." 15

Wawona was their main money-making concern, but the brothers had a financial finger in Glacier Point, almost all public transportation, and owned the Wawona stage road which was a toll road. By their energy and vision, they helped put Wawona, as well as Yosemite, on the map and in people's hearts and minds.

The Washburns were considerate employers with loyal help including some who worked for them over fifty years. When the hotel was at its peak in the early 1900's, twenty Chinese worked in the kitchen, garden and laundry.

Ah You was chef for half a century and was famed for his delicious pies. Most of the Chinese help lived up-stairs in a building near the smokehouse. At first when they were moved to a larger, newer building, with a bathtub, near the laundry, Ah You, Ah Louie, Ah Wee and the others complained of its large windows and spaciousness. 15

Noted as fine, generous hosts the Washburns gave turkeys to their numerous employees at Thanksgiving, Christmas and New Year's. Hattie Bruce Harris remembers, "We smoked our own ham, and bacon from a hog given each family, scraped and ready for pickling down, and along with this were big boxes of tenderloin and milk cans full of sausage. I spent weeks gathering oak bark for the smokehouse." 18

Charlotte Bruce Gibner wrote in 1955 that, "Wawona was famous for its food. It had its own garden from which all its vegetables came; they killed their own meat; they fished the rivers; milk came from their own dairy and, in game season, there was venison. A typical Wawona breakfast consisted of fruit in season, beefsteak, ham and eggs, hot cakes and corn-bread with home-made preserves. This was not to give the diner a choice, but to be eaten in its entirety. The rate for room and board was $4.00 a day." 19

For years, fresh trout was served at dinners. In the early days Indians caught them in the nearby river and streams; then Jay Bruce accounted for 32,000 of them in two seasons. But the biggest, most consistent fisherman of all was young Clarence Washburn. He was so busy catching from 75 to 300 fish a day he didn't have time to think up fish stories. Several years he went back to college with $400 clear after paying for his horse's summer feed. 15

The Wawona operation was a great family enterprise. The superintending Washburn brothers were related by marriage to the Bruces who were active various hotel concerns. Albert O. Bruce ran the saloon and store, daughter Hattie worked first as a chambermaid in the hotel and later as a skilled telegraph operator in San Francisco, son Bert became a more or less official hotel photographer with his sister Hattie assisting in the dark room. Other Bruces worked in various capacities.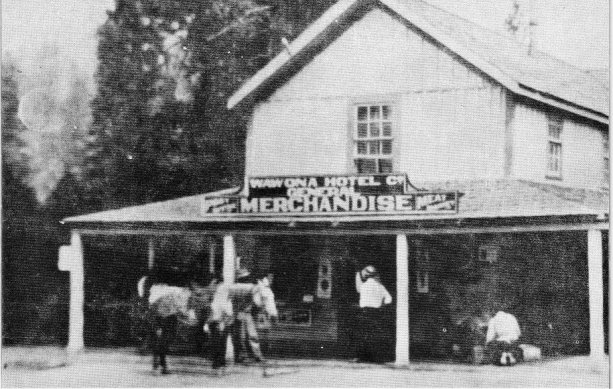 Wawona Hotel Store in 1914. The building at one time housed a saloon
The Bruces were intermarried with the Leitchs, Bruce M. Leitch was justice of the peace; and to the Baxters, in whose family was Ed Baxter, a State Assemblyman. Both Leitch and Baxter were friends of the Washburns and worked in the curio shop at Mariposa Grove.
Thomas Hill was closely associated with the hotel from 1885, when his daughter married John Washburn, until his death in 1908.
Aside from such family connections, the Washburns employed many Mariposans and Chinese for their hotel and turnpike company.
Tourist season — April to November — was hotel season; during the winter, when their own operation was snowbound, the Washburns spent a month or so at San Francisco's Palace Hotel. In season, they lived on the main building's second floor. 15
The hotel had charm, atmosphere and luxury. There were three fountains spaced across the grounds, one in front of Hill's studio, another which still cascades in front of the main building and a third in back of the main hotel building.
Most of the hotel buildings front on the lovely, serene meadows which appear today much as they did in 1856 or 1910, although the golf course has tamed the lower end. In his book Yosemite Trails published in 1911, J. Smeaton Chase wrote that the "Wawona Meadows themselves might be called the Sleepy Hollow of the West. It is the most peaceful place that I know in America, and comes near being the most idyllic spot I hove seen anywhere . . . Here is unbroken meadow, green as heaven, a mile long, wing knee-high with all delicious grasses and threaded with brooklets of crystal water. It is surrounded with a rail-fence that rambles in and out and around about and hither and thither in that sauntering way that makes a rail-fence such a companionable thing . . ."
All the hotel buildings had names. The Long White, just to the right of the present main hotel building, was built by the Washburns soon after an 1879 fire destroyed the original lodging house they had bought from Clark and Moore.
About 1885, the Main Hotel building was built on the site of Clark's original home and rude hotel. Today, it is a gingerbreaded, wide-parched, many-windowed building little changed appearance from the 1880's. A high-ceilinged dining room and kitchen were added to it in 1917 and the Washburn's apartments upstairs have been turned into guest rooms. The building may not possess any particular architectural merit, but its old-fashioned "western resort" style lends a kind of charming elegance and character unmatched in more modern hotels.
The Pavilion, Hill's Studio, was built in 1884 and stands now as recreation building. In 1900 the Small White, now called the Manager's Cottage, 20 was built and, for years, rented summers at a handsome price to a family from Los Angeles.
Hutchings wrote that the Washburns gave a true "New England welcome" to their guests and it is a matter of record that many of them came back season after season.
One satisfied visitor in 1911 was Jackson A. Graves, who wrote later, "Wawona Hotel is pleasantly located. It is an ideal place to rest in. There inertia creeps into your system. You avoid all unnecessary exercise. You are ever ready to drop into a chair and listen to the wind sighing through the trees and the river singing its never ending song . . ." 21
Over the years, the hotel grew from one building to eight, from 160 acres to 4,000. Arrivals ranged from a few horse-drawn stages a day to many using over 700 horses and then, in 1916, motor stages, principally Thomas Fliers and Pierce-Arrows.
Henry Washburn died 1902, Edward in 1911, John in 1917. Clarence, who had been assistant manager and active in the hotel management since 1907, became general manager. In 1917, he added the Hotel Annex and the Sequoia building, a swimming pool, a 3,035 yard golf course in one end of the meadow and a landing field in the other. 15 He could and did accommodate 300 guests, half of them "repeaters." At peak times, tents were used for the overflow.
In the first, tire-blowing years of automobile travel, Huffman's Garage at Wawona and Miami Lodge did a busy trade. They repaired cars so they could chug on into Yosemite Valley; then, if they made it back to Wawona, fixed them again for the onerous trip to Fresno. The hotel of course benefited by the enforced overnight stops of the cars' passengers. 15
Two Army pilots mode the first aircraft landing at Wawona December 8, 1925. Soon after that, Frank Gallison, a Mariposa native, made daily flights from Merced and hotel guests had mail and the San Francisco papers with their breakfast coffee. Also, Gallison flew guests over Yosemite Valley for $7.50, giving them thrills forbidden now by law. 15
Clarence Washburn married Grace Brinkop in 1913, and their daughter, Wawona, was born at the hotel the following year. An only son died in youth, leaving no one to take over the family business. For that and other reasons, Clarence sold the Washburn holdings — lock, stock, hotel good name and 3,724 acres — to the Park Service in 1932.
The hotel furniture and fixtures were purchased by the Yosemite Park and Curry Company for whom Clarence managed the hotel in '33 and '34. After that he moved to Indio where he became a leading citizen and in 1961, at a vigorous 75, was managing the Hotel Potter as he has since 1936. 15
An era had ended at Wawona. Since 1934 the hotel and its facilities have been managed by the Yosemite Park and Curry Company. Tennis courts have replaced the garage, two of the fountains are gone, Stella Lake is no more — yet the old time atmosphere is still there. The Company has restored a tiny bar downstairs in the main hotel and has always kept one room furnished in the grand old style.
The charm, compounded of sunny meadow, surrounding forest and timeless peace remains, the hotel as it was in Galen Clark's time, Pallahchun — a good place to stop!
---
Next: Homesteaders • Contents • Previous: First Settler
CalHotels.US Lowest Hotel Rates Guaranteed. Click Here For Yours!
Hotel photos, maps, reviews, & discount rates.
U.S. Hotels in California (Yosemite, L. A., San Francisco ), AL, AK, AR, AS, AZ, CA, CO, CT, DC, DE, FL, FM, GA, GU, HI, ID, IL, IN, IA, KS, KY, LA, ME, MD, MA, MI, MN, MS, MO, MT, NE, NH, NJ, NY, OK, NV, MH, MP, NM, NC, ND, OH, OR, PA, PR, PW, RI, SC, SD, TN, TX, UT, VT, VA, VI WA, WV, WI, WY
http://www.yosemite.ca.us/library/wawonas_yesterdays/washburns.html