Yosemite > Library > Wonders & Beauties > Ads >
---
Yosemite: Its Wonders and Its Beauties (1868) by John S. Hittell
Advertisements
Contents • Previous: Conclusion
---
H. H. BANCROFT & COMPANY,
Publishers, Manufacturers, Importers,
And Wholesale and Retail Dealers In
BOOKS AND STATIONARY,
609 Montgomery Street, and 607–617 Merchant Street,
San Francisco.
NEW YORK, – – – – 113 William St.
LONDON, – – – – 10 Warwick Square.
---
The business is divided into Ten Departments, for each of which a Catalogue is published as follows:
I. Miscellaneous Books, comprising History, Biography, Travels, Poetry, Romance, etc.
II. Scientific Books, including Architecture, Fine Arts, Chemistry, Mechanics, Surveying, Astronomy, Geology, Mining, Zoology, Botany, Agriculture, etc. 58 octavo pages.
III. School Books, Maps, Charts, and School Apparatus. 22 pages.
IV. Law Books. A large stock and complete assortment. Agents for American Law Review, on the Pacific Coast. Catalog of 16 pages.
V. Medical Books. A full stock of English and American. Publish the Pacific Medical and Surgical Journal. Catalogue of 19 pages, with Index of Subjects.
VI. Religious Books. Sunday School Libraries, Hymn Books, Prayer Books, Bibles, etc. Publish The Occident, the weekly organ of the Presbyterian Church on the Pacific Coast.
VII. Subscription Works, Maps, Engravings, and Illustrated Books, sold only by Canvassing Agents.
VIII. Blanks. Law, Mercantile, and Commercial.
IX. Stationary. An immense stock of Blank Books, Writing papers, Inks, etc., etc. Illustrated Catalogue of 106 pages.
X. Publishing Department. List of Bancrofts' Publications.
---
EL DORADO LIVERY STABLES,
(NEW FIRE-PROOF BUILDING,)
EL DORADO STREET, OPPOSITE THE THEATRE.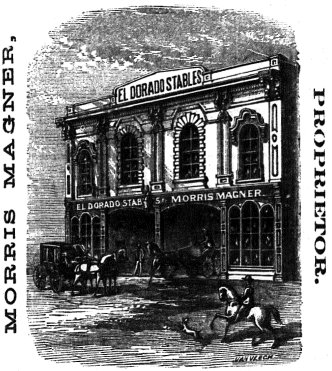 STOCKTON, CAL.
I beg leave to inform my friends and the traveling public at large, that I am well prepared to furnish fine Hacks, Rockaways, Carriages, and Buggies, at very reasonable rates, and upon short notice. I have a splendid selection and large number of FINE YOUNG HORSES, sound and free from vice, of fine style, and capable of going as fast as any gentleman cares to drive.
Private Teams, with elegant Road Wagons, of all descriptions, for parties visiting the Big Tree Grove and Yosemite Falls, and any interior locality, always to let at short notice, with or without drivers. I employ none but careful and accommodating men.

Horses Boarded by the Day, Week or Month, with the best of care. Thankful for past favors, I hope by strict attention to the wants of my patrons, to merit a continuance of the same.
All orders telegraphed to me will be paid for by myself.
Information in regard to interior roads cheerfully give.
Stockton,

May 1st, 1868.
M. MAGNER.
---
EDW. J. MUYBRIDGE
Has now made for sale the most comprehensive and beautiful series of Views, illustrating the wonderful
SCENERY OF THE YOSEMITE VALLEY
ever executed. They comprise 250 Views of the various Falls, Precipices, and most picturesque and interesting points of sight fit the valley.
100, 6 x 8 inches, mounted on India tinted boards, 14 x 18 inches,
price, $1.25 each, or $1 each, in quantities of 20 and upwards.
160 Views for the Stereoscope, price $4.50 per dozen.
" Card-size, for the album, $2.50 " "
All of these can be had unmounted, for the convenience of those wishing to forward them by mail. A complete series of the same, various sizes, illustrating the most noted Mammoth Trees in the State. These views are by "HELIOS," and are justly celebrated as being the most artistic and remarkable photographs ever produced on this coast. [See criticisms.]
Also preparing for publication, a complete series of
SAN FRANCISCO VIEWS,
and it series illustrating MINING SCENES, and the principal Places of interest on the Coast.
---
OPINIONS OF THE PRESS.
At the regular monthly meeting of the Photographic Society of Philadelphia, held March 4th, 1868, the Vice President, J. W. Hurn in the Chair, On motion of Mr. Guillou the following resolutions were unanimously adopted:
Resolved, That this Society take great pleasure in attesting their high appreciation of the artistic skill in the selection of these Views, and the eminent talent evinced in their photographic reproduction."—Philadelphia Photographer.
These Views are taken from fresh points, selected with a nice regard to artistic effect, and illustrating the valley and its cliffs and falls more variously than any previous series. There are effects in some of these new views which we have not met before. The plunging movement and half vapory look of cataracts leaning 1,000 or 1,500 feet at a bound, are wonderfully realized.—Evening Bulletin.
The Views surpass, in artistic excellence, anything that has yet been published in San Francisco. The publisher of this remarkable series of pictures seems to have the best names of San Francisco art-critics on his subscription books.—Alta California.
"Helios" presents the gorgeous scenes of that famous locality from points of view entirely different from any heretofore taken—a collection of views that is unsurpassed by any preceding.—Morning Call.
HELIOS is prepared to accept commissions to photograph Private Residences, Ranches, Mills, Views, Animals, Ships, etc., anywhere in the city, or any portion of the Pacific Coast.
Architects', Surveyors' and Engineers' Drawings copied mathamatically correct.
Photographic copies of Paintings and Works of Art.
Address, care of
EDW. J. MUYBRIDGE,
Cosmopolitan Gallery of Photographic Art,
415 Montgomery St., San Francisco
---
Contents • Previous: Conclusion
http://www.yosemite.ca.us/library/yosemite_its_wonders_and_its_beauties/ads.html