Yosemite > Library > Wonders & Beauties > Cap of Liberty >
---
Yosemite: Its Wonders and Its Beauties (1868) by John S. Hittell
Next: Kahchoomah Rock • Contents • Previous: Nevada Fall
---
THE CAP OF LIBERTY.
North of Yowiye is a magnificent dome which rises two thousand feet above the top of the fall, and four thousand six hundred feet above the valley. It resembles a cap of liberty and bears that name. It is also called Mahta and Mt. Broderick. This dome is shown in the photograph as it is seen from the west at a distance of a mile.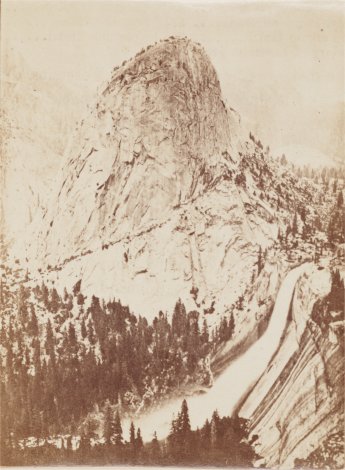 XVIII. Mahta, (Cap of Liberty)

Mount Broderick.


4,600 feet above the Valley. Yowiye.


Nevada Fall,

at the right.
---
Next: Kahchoomah Rock • Contents • Previous: Nevada Fall
http://www.yosemite.ca.us/library/yosemite_its_wonders_and_its_beauties/cap_of_liberty.html