Yosemite > Library > Wonders & Beauties > Kahchoomah Fall >
---
Yosemite: Its Wonders and Its Beauties (1868) by John S. Hittell
Next: Nevada Fall • Contents • Previous: Vernal Fall
---
KAHCHOOMAH FALL.
From Piwyac to the Nevada Fall, a distance of a mile, the river descends two hundred and fifty-five feet, rushing swiftly down, with numerous cascades, over smooth rocks, showing glacial polish in many places. About half-way between them is the Kahchoomah or Wild Cat Fall, 30 feet high. There is also a small lake, a couple of hundred feet wide. The photograph was taken just below the fall.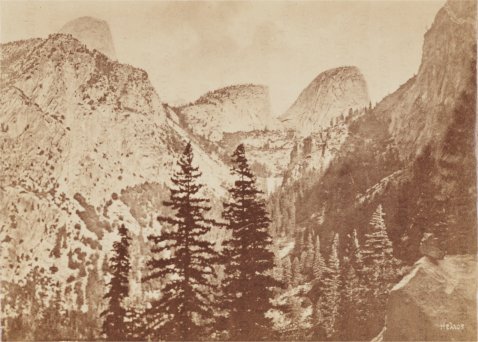 XX. Scene from Toloolweack Canon, or South branch of the Merced.
The

Half Dome, Wild Cat Fall, Mount Broderick,

and


Vernal Fall.
---
Next: Nevada Fall • Contents • Previous: Vernal Fall
http://www.yosemite.ca.us/library/yosemite_its_wonders_and_its_beauties/kahchoomah_fall.html