Yosemite > Library > Wonders & Beauties > Sentinel Rock >
---
Yosemite: Its Wonders and Its Beauties (1868) by John S. Hittell
Next: Sentinel Dome • Contents • Previous: Fissure
---
SENTINEL ROCK.
Just opposite to the great fall is Sentinel Rock, a narrow promontory jutting out a quarter of a mile into the valley, and at the point of the mountain is an obelisk, about 2,000 feet high, and three hundred feet thick, the summit reaching an elevation of 3,000 feet. The sides show beautiful vertical cleavages in the granite. The Indian name is Loya. The Sentinel is one of the most striking objects in the Yosemite scenery, and has been a favorite subject with artists who have visited the valley. The picture of the Sentinel was taken from the west, the camera standing a mile and a half off.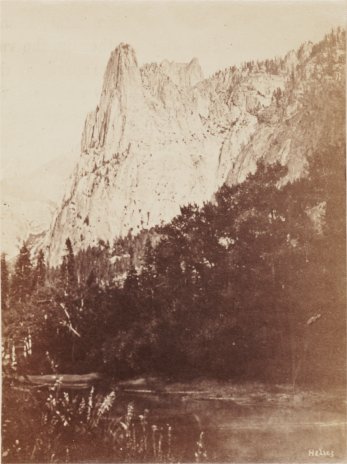 XI. Loya,

Sentinel Rock,

from a point a mile and
a half distant, 3,270 feet above the Valley.
---
Next: Sentinel Dome • Contents • Previous: Fissure
http://www.yosemite.ca.us/library/yosemite_its_wonders_and_its_beauties/sentinel_rock.html