Yosemite > Library > Zanita >
---
Zanita: A Tale of the Yo-semite (1872) by Thérèse Yelverton
---
Dramatis Personae
Thérèse Yelverton thinly disguised her characters. The following characters in her novel are loosely-based on these people, in order of introduction:
Mrs. Sylvia Brown (narrator)
Thérèse Yelverton (author)
Kenmuir
John Muir
Professor John Brown
Professor Josiah D. Whitney and
Professor Joseph LeConte
Zanita Naunton
Florence "Flo" "Squirrel" Hutchings
Egremont
Thérèse's husband, Viscount Avonmore
Rosalind "Cozy" Naunton (Zanita's sister)
Gertrude "Cosie" Hutchings
Oswald Naunton (husband)
James M. Hutchings
Placida Naunton (wife)
Elvira Hutchings
"Horse-shoe" Bill
"Pike" (Nathan Bennett Phillips)
Methuselah "Methley"
James C. Lamon
Radd and Nell Radd
Albert and Emily Snow
Rollo (Radds' St. Bernard)
Carlo (Snows' St. Bernard)
Mu-wah
Tom "Hutchings," "Indian Tom" (Mono Paiute)
Galen of Galen's Rancho
Galen Clark of Clark's Ranch or Galen's Hospice
These Ahwahneechee place names are used in the novel, using the author's spelling:
| | |
| --- | --- |
| Pom-pom-pas-us | Three Brothers |
| Pal-li-lima | Glacier Point |
| Tu-tock-ah-nu-lah | El Capitan |
| Py-wy-ack* | Vernal Falls* |
| Yo-wee-ye | Nevada Falls |
| Tis-sa-ack | Half Dome |
| To-coy-eeh | North Dome |
| Hunto | Basket Dome |
| Tah-mah | Liberty Cap |
| See-wahlum | Washington Column |
| Hum-moo | Lost Arrow |
——
*The correct Ahwahneechee name for Vernal Fall is Yan-o-pah. Py-wy-ack refers to Tenaya Lake and was mistakenly transfered as the name for Vernal Fall. See Bunnell, Discovery of the Yosemite (1880), p. 207.
---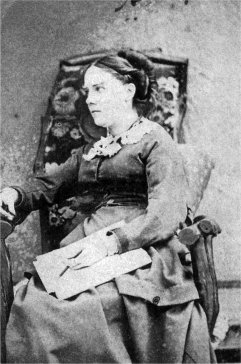 Theresa Yelverton in Yosemite, 1870, seated in manzanita armchair made by James Hutchings. Carte-de-Visite by J. J. Reilly. (Yosemite Research Library)
About the Author
Born circa 1832-36 as Maria Theresa Longworth, in Chetwood, Linconshire, England. She was the youngest of six children of a silk manufacturer. Her mother died when she was eight and she was educated at a convent in France. Her father died when she was twenty, leaving her a small fortune. She married Major William Charles Yelverton, Viscount Avonmore in 1857, first secretly in Ireland, then privately in Scotland, and became Thérèse Yelverton, Viscountess Avonmore. However, her bigamist husband remarried, then used his influence with the British House of Lords to anul his earlier marriage to Thérèse Yelverton. The case had much notariety, with great support for her by the public. The Viscount Avonmore was hung in effegy and he had to briefly go into hiding. Her family's small fortune was robbed by her husband (since she couldn't annul their marriage), so she supported herself by writing about her travels.
Francis Farquhar wrote that she " . . . spent the summer of 1870 in Yosemite, where she attached herself to the Hutchings family and made eyes at John Muir. He escaped to the woods, but not before she had noted enough of his conversation and his ways of life to make him over into Kenmuir, the hero of her novel." Although fictional, the characters in the novel are thinly-disguised and provide a useful peek into Yosemite of the early 1870's, especially of a young John Muir. For me, her Novel has made several early Yosemite pioneers come alive, with depth and personality, as no historical account has been able to do. The beginning chapters are closer to reality, and the remaining chapters head into pure fiction. The last chapters, set outside Yosemite, go off the deep end with some unlikely adoption scenario by the book's fictional narrator, Mrs. Brown.
After Yosemite, Mrs. Yelverton continued to tour the world and write about her adventures. Thérèse Yelverton died September 13, 1881 in Pietermaritzburg, Natal, South Africa.
Further information:
Linnie Marsh Wolfe, Son of the Wilderness, pp. 136-142 (1946).
"Introduction" and "Preface" from the 1991 reprint of Zanita, by Margaret Sanborn and Kate Reed, respectively.
Brian Roberts, Ladies in the Veld (London: Murray, 1965)
Charles Warren Stoddard, In the Footprints of the Padres (San Francisco: A. M. Robertson, 1902) (Library of Congress American Memory) discusses Mrs. Yelverton.
---
Bibliographical Information
Thérèse Yelverton (Viscountess Avonmore) (ca. 1832-36 - 1881), Zanita: A Tale of the Yo-semite (New York: Hurd and Houghton, 1872) iv+296 pp. 20 cm. Green cloth cover with gilt lettering on spine. Bibliographies: Cowan p. 669, Farquhar 11, Currey & Kruska 399. Limited to 2000 copies. Library of Congress Call Number PR5909.Y45 Z26
Reprinted 1991 by Ten Speed Press with an added introduction by Margaret Sanborn and preface by Kate Reed.
Digitized by Dan Anderson, May 2005. These files may be used for any non-commercial purpose, provided this notice is left intact.
—Dan Anderson, www.yosemite.ca.us
---
http://www.yosemite.ca.us/library/zanita/