Yosemite > Pioneer History > Wells Fargo Office >
Next: Degnan Bakery • Contents • Previous: Ranger Patrol Cabin
Pioneer Yosemite History Center Online Tour
---
Wells Fargo and Stage Office
With the opening of roads into Yosemite Valley in 1874 and 1875, travel by stage coach — or "stages" as they were known locally — became a popular mode of transportation. Visitors endured at least two days of jostling and bouncing aboard the stage in order to reach the wonders of Yosemite.

The Old Upper Village in Yosemite Valley was a hub for most visitor services. Visitors arriving by horse-drawn or auto stage used this office to make railroad and lodging reservations, place long-distance phone calls, or send telegrams.

When the spur railroad form Merced reached El Portal in 1907, the stage industry suffered. The first automobiles were permitted to enter the park, under strict regulation, in 1914. As automobiles became a successful mode of transportation the stages were doomed.

The very modern office was erected by the Yosemite Valley Railroad Company in 1910 for their agent, the Wells Fargo Company. Mr. and Mrs. George Farber, a newly married couple, served as the Wells Fargo agents and first occupied the living quarters on March 17, 1913. From here, you could purchase a stage ticket, phone to any part of the state and telegraph any point in the world It is even equipped with electric lights!

By 1914, automobiles were common in Yosemite, and in that year horse-drawn stage service was discontinued. However, annual visitation to Yosemite in 1915 doubled to 31,000. Consequently, stage operations were renewed. In 1916, the era of stage travel ended and another began. The National Park Service, a federal agency created to preserve and manage our country's national parks, was established.

In summer, 10--minute stage rides may be purchased here when the office is open.

The Yosemite Transportation Company Office building is of an unusual rustic design. It is 24-feet (7 m.) square and made of pine poles and cedar bark. The building is listed in the National Register of Historic Places (architecture and transportation, local).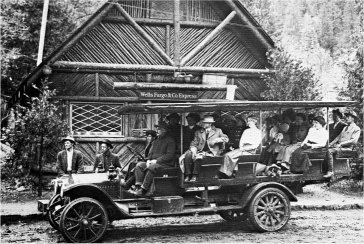 [click to enlarge]


The White motor stage in front of the Wells Fargo
office in Yosemite was the first motor stage to
arrive in Yosemite Valley (Nov. 19, 1913)
(Hank Johnston, Yosemite's Yesterdays, II)

Doug Hubbard remembers moving the building from Yosemite Valley:
The Wells Fargo building was difficult to move to Wawona. It was three feet too wide for the Wawona Tunnel, but Glenn Gordo, master craftsman and builder from Mariposa, realized that the main hall ran from front to back so he chainsawed three feet out and squeezed the building together. He set up a generator and strung lights all around it and one night after midnight we dragged it through the tunnel, scraping first on one side and then the other! [ Yosemite 65:2 (Spr. 2003)]
---
Next: Degnan Bakery • Contents • Previous: Ranger Patrol Cabin
Copyright © 2005 by Dan E. Anderson. All rights reserved.
http://www.yosemite.ca.us/pioneer-yosemite-history-center/wells_fargo.html