Yosemite > Pioneer History > Degnan Bakery >
Next: Powderhouse and Jail • Contents • Previous: Wells Fargo Office
Pioneer Yosemite History Center Online Tour
---
Degnan Bakery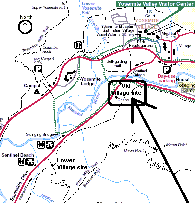 [click to enlarge]


The Bakery was originally located
in the Old Village in Yosemite
Valley, east of the chapel.

John Degnan, his wife Bridget, an Irish couple with a family, settled in Yosemite Valley in 1884, and began working as a laborer and caretaker for the state administrators of the Yosemite Grant. John Degnan cultivated Lamon's upper orchard and the family lived in a small frame house near the site of Lamon's original cabin for a few months. After the family moved back to the Old Village, John continued to work for the state and do odd construction jobs for the hotels and stage companies. In 1898 Degnan built a new house on the site of the old J. J. Westfall meat market in the Old Village.

In the bakery Bridget prepared bread for sale in a brick oven that yielded 100 loaves per baking. His wife, Bridget, added to the family's income by selling bread she baked daily in Dutch ovens for 12 1/2¢ a loaf. The demand for Mrs. Degnan's bread increased steadily as travel to Yosemite grew. A larger portable oven, capable of producing 50 loaves a day, was used for a time. In 1900 the Degnans ordered a large brick oven for a more permanent bakery. The Degnans sold these and other baked goods through the store.






[click to enlarge]


John and Bridget Degnan and family about 1896.
Back row: Daisy, Ruth, and Laurence Degnan. Front row: Christopher, Alfred, Mary Elen, and John Degnan.



[click to enlarge]


John and Bridget Degnan and family
Laurence is at far right. (YRL)
The bakery and kitchen is a tongue-and-grove structure that attached to the rear of the Degnan house. The Degnan home and bakery were originally located near the Chapel in the Old Upper Village in Yosemite Valley. It was moved to the Historic Center in the 1980s. This bakery is an important remnant of Yosemite's early visitor services.


(NPS)

The Degnan operation was moved to a modern structure in the present Yosemite Village in 1956. Degnan's remained a family business and independent park concessioner until the Yosemite Park and Curry Company purchased the business in 1974. This was forced in part due to a bankruptcy. The expense of moving and building a modern A-framed building in the new Village was too much for the small family-ran business.

More information
---
Next: Powderhouse and Jail • Contents • Previous: Wells Fargo Office
Copyright © 2005 by Dan E. Anderson. All rights reserved.
http://www.yosemite.ca.us/pioneer-yosemite-history-center/degnan_bakery.html