Yosemite > Library > Big Oak Flat Road >
---
The Big Oak Flat Road (1955) by Irene D. Paden and Margaret E. Schlichtmann
---
About the Authors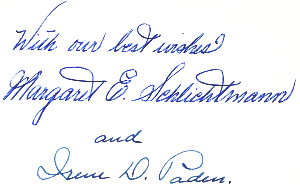 Irene Dakin Paden was born April 24, 1893 in Colorado. Paden was a self-described housewife with an interest in pioneer history, especially of the Overland Trail. She and her husband spent a month or more each year in the 1930s and 1940s exploring the Overland Trail by automobille. Paden previously wrote these pioneer histories before she was contacted by the co-author to complete Big Oak Flat Road:
Wake of the Prairie Schooner (Macmillan, 1943)
Journal of Madison Berryman Moorman, 1850-1851 (Calif. Hist. Soc., 1948)
Prairie Schooner Detors (Macmillan, 1949)
In 1955 Paden became a Guggenheim fellow for her work in bibliography. Her husband William G. Paden, born May 21, 1883 in California, died April 6, 1954 in Alameda Co., California, before the book was completed. Mr. Paden helped research the 1833 Walker route. He was superintendent of schools in Alameda County and a school in Oakland is named for him. Irene Paden died in Riverside Co., California December 8, 1967. Her papers are at University of the Pacific.

Margaret Elizabeth (Sprado) Schlichtmann was born September 2, 1898 in Illinois. She married Emil Peter Schlichtmann, who was born 1895. They lived in Oakland and San Leandro, California. Mrs. Schlichtmann gathered much historical information about the Big Oak Flat Road starting in 1940. Much of the material she gathered is original research. She didn't want to write a book by herself though, so contacted Irene Paden, who wrote previous histories, to complete the work. When the Pioneer Yosemite History Center was established in the early 1960s, Schlichtmann, provided historic furnishings for the Hodgdon cabin. Mrs. Schlichtmann for a time played the role of Mrs. Hodgdon, sitting in a rocker on the front porch telling stories, providing the Park's first living history. Schlichtmann also edited The Journals of Jesus M. Estudillo (1988).

Margaret Schlichtmann died April 25, 1989 in Contra Costa Co., California. Her husband died previously in 1988. Her papers gathered from researching this book and a separate photograph collection are in the Bancroft Library, Berkeley, California.

Both authors received an award in 1955 from the Commonwealth Club of California for their contribution to California history.
---
Bibliographical Information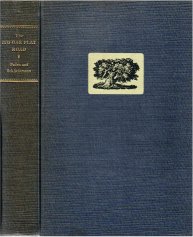 Irene Dakin Paden (1893-1967) and Margaret Elizabeth Schlichtmann (1898-1989) The Big Oak Flat Road: An account of freighting from Stockton to Yosemite Valley (Oakland: Emil P. Schlichtmann, 1955). LCCN 56001204. 356 pages, 2 folding maps, illustrated, bibliography. 25 cm. Side edge rough cut. Bound in light blue cloth with cover oak tree vignette and gilt spine title [cover]. Clear mylar dust jacket. 1000 copies printed. The book also came with a modern sepia-tone print of a 1903 photograph by Julius T. Boysen of a wagon team riding down zig-zags on the Big Oak Flat Road to Yosemite Valley (19x24cm). Library of Congress call number F868.B5 P3. Bibliographies: Rocq. 5257, Howell 50:1394, Adams, Six-Guns, 1667.
Here are the reprintings after the original 1955 printing. All printings have the same text, except for a few added footnotes, but the front matter, cover, and photographic plates are different.
2nd: 1959 by Yosemite Natural History Association. Soft cover with freight team and toll sign on cover in orange [cover], and hard cover blue cloth with freight team [cover]. Text is identical to first printing, but this printing has a different set of photographs. LCCN 59051444.
3rd: 1964 by Yosemite Natural History Association in soft cover
4th: 1975 by Holmes Book Co., Oakland, California. Soft cover with mule team design
5th: 1986 by Awani Press, Fredericksburg, Texas as The Big Oak Flat Road to Yosemite. Soft cover with photograph of mule team riding down zig-zags above Yosemite [cover]. Sold by Yosemite Association.
Digitized by Dan Anderson, November 2005, from a personal copy. These files may be used for any non-commercial purpose, provided this notice is left intact.
—Dan Anderson, www.yosemite.ca.us
---
http://www.yosemite.ca.us/library/big_oak_flat_road/