Yosemite > Pioneer History > Homestead Cabin >
Next: Blacksmith Shop • Contents • Previous: George Anderson Home
Pioneer Yosemite History Center Online Tour
---
Hodgdon Homestead Cabin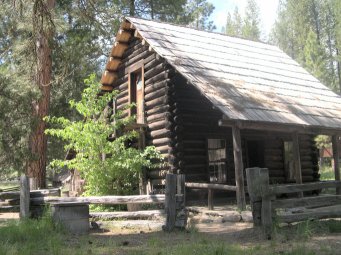 [click to enlarge]


The Hodgdon cabin is the only two-story
log cabin in Yosemite National Park.

The Hodgdon cabin represents the role of the homesteaders, a controversial chapter of Yosemite's history. Homesteaders claimed a portion of the Yosemite area under the stipulations of the Homesteading Act of 1864. The Hodgdons owned a ranch in the Sierra foothills and claimed a section of land near Yosemite as summer pasture. The Hodgdons, along with other pioneer families, opposed John Muir's efforts to create Yosemite National Park, believing that it would erode their rights as property owners. After building the only two-story cabin in the region, and creating a summer home, the Hodgdons feared that the creation of Yosemite National Park would undermine their homesteading efforts.

The idea of protecting the watersheds of the Yosemite area, by means of a natural preserve surrounding the state grant, gained popularity. The Homestead Act of 1862 provided for 160 acres (65 hectares) of land to any person willing to occupy and cultivate the land for five years. Much of the high country around Yosemite Valley had also been claimed by the late 1800's. Were such a natural preserve to be set aside, would these homesteads be reclaimed by the government? Or, could homesteaders play an important role in meeting the needs of increasing numbers of visitors?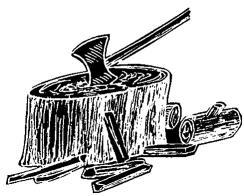 (NPS)

Jeremiah Hodgdon and family, ranchers from the San Joaquin Valley, built this cabin on their homesteaded land in 1879 at Aspen Valley, north of Crane Flat, and grazed cattle there each summer. This building represents the homesteaders who endeavored to carve farms and ranches from the wilderness. It is Yosemite's only two-story log home.

In the late 1880's, John Muir and other preservationists grew concerned that the damage caused by cattle and sheep in the high country would impact the watershed and Yosemite's waterfalls. This led to Congress establishing Yosemite National Park in 1890. The Hodgeons were opposed to the park's creation as they feared they will have to sell their land and lose their livelihood.




The Hodgdon cabin was originally located in Aspen Valley, on the old Tioga Road, it was dismantled trucked to Wawona for the History Center. The cabin was photographed and each log numbered for reassembly. Historian Margaret Schlichtmann, author of The Big Oak Flat Road to Yosemite provided historic furnishings for the cabin. Mrs. Schlichtmann for a time played the role of Mrs. Hodgdon, sitting in a rocker on the front porch telling stories, providing the Park's first living history. The Hodgdon Homestead Cabin is listed in the National Register of Historic Places (architecture, local).
More information
---
Next: Blacksmith Shop • Contents • Previous: George Anderson Home
Copyright © 2005 by Dan E. Anderson. All rights reserved.
http://www.yosemite.ca.us/pioneer-yosemite-history-center/homestead_cabin.html