Yosemite > Library > Big Trees of Calif. > Age of the Sequoias >
Next: Characteristics • Contents • Previous: Size
The Big Trees of California (1907), by Galen Clark
---
Age of the Sequoias
---
The extreme age attained by some of the Big Trees will ever be an unsettled question. In examining the remains of fallen trees, the annual ring growth varies very much in different specimens, some of them averaging many more rings to the inch than others, according to variations in local conditions, whether favorable to a vigorous growth or not. The number of rings, near the heart of the largest old fallen trees examined, average about ten to the inch. Near the outside surface they average fifty or more to the inch.
In the pickets of the fence which now surrounds the General Sherman tree in the Sequoia National Park, made from an old fallen tree in the near vicinity, those examined by myself and others present had fifty rings to the inch. This would make an increase of two inches in the diameter of the wood part of the tree in fifty years. The outside sap wood of the tree undoubtedly had over sixty rings to the inch. Apparently some of the largest old fallen trees, like the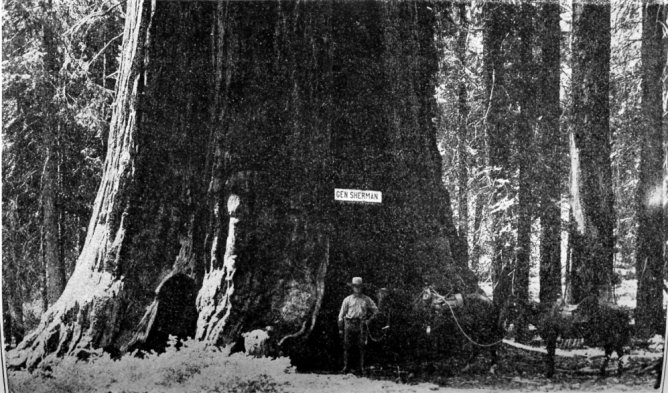 GENERAL SHERMAN TREE, SEQUOIA NATIONAL PARK.
Height 285 feet, circumference at base, 102 feet.

Forest Giant in the Mariposa Grove, may have attained the age of over six thousand years before they were uprooted.

Many of the largest old trees in all the groves have been badly injured by fire. This is more evident in the northern groves than in those south of Kings River. In the Sequoia National Park there is no evidence that any extensive fires have spread through the forest for the past one hundred or more years. There is such dense growth of green vegetation covering the ground where most of the Sequoias grow, that fires cannot now spread sufficiently to do much damage.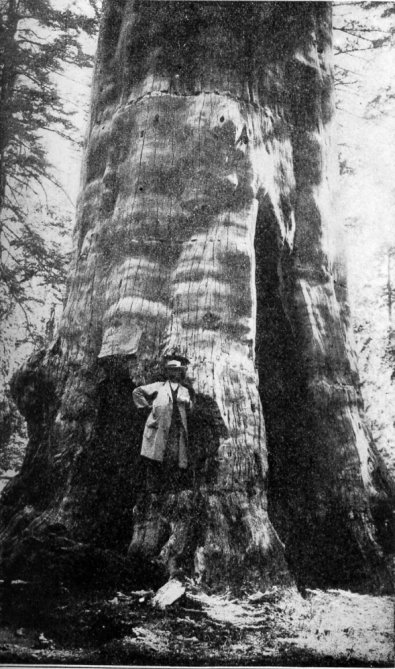 MOTHER OF THE FOREST, CALAVERAS GROVE.
Diameter 32 feet; height 325 feet. The bark was
removed for the Paris Exposition of 1860.
---
Next: Characteristics • Contents • Previous: Size
http://www.yosemite.ca.us/library/big_trees_of_california/age.html