Yosemite > Library > Big Trees of Calif. > Size of the Big Trees >
Next: Age • Contents • Previous: Sequoia National Park
The Big Trees of California (1907), by Galen Clark
---
Size of the Big Trees
---
The average height of the large sized Sequoias is about two hundred and seventy-five feet, though some few have been found to exceed three hundred and twenty-five feet in height Their average diameter nt the ground is about twenty feet, though in nearly every grove there are some which exceed thirty feet in diameter. The difference of a few feet, however, in the diameter of the largest trees, is not perceptible to the eye, and only by actual measurement can such variations be ascertained.
The first impression, when viewing the largest of these trees, may be one of disappointment. The body of the tree being, round, and very symmetrical in form and height, its size is somewhat deceptive. But when some familiar object, such as a person or a horse, is placed alongside the tree, the illusion is quickly dispelled.
Another cause of this occasional sense of disappointment is caused by the fact that most of the measurements published are taken at the base of the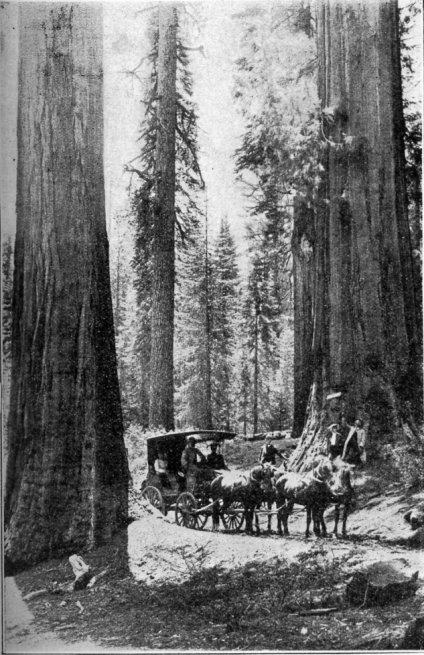 Photograph by Hallet-Taylor Co.
IN THE MERCED GROVE.

tree near the ground, which is larger than the body of the tree a few feet above. Persons taking measurements for publication should state whether taken near the ground or how many feet up.
---
Next: Age • Contents • Previous: Sequoia National Park
http://www.yosemite.ca.us/library/big_trees_of_california/size.html