Yosemite > Library > Big Trees of Calif. > General Grant and Sequoia National Parks >
Next: Size • Contents • Previous: Mariposa Grove
The Big Trees of California (1907), by Galen Clark
---
General Grant and Sequoia National Parks
---
South of the south fork of Kings River, in Fresno County, there commences an extensive belt or forest of Sequoias, three or four miles in width, and extending south across Tulare County nearly to the north boundary of Kern County for a distance of over sixty miles, with but small breaks caused by deep canyons.
This extensive area has been divided by sonic writers into different local groves. That portion in Fresno County is known as the Kings River Grove, and also the Fresno Grove. Proceeding south, we find the Kaweah Grove, and Tule River Groves (North Fork and South Fork) in the basins of Kaweah. and Tule Rivers respectively.
Two public parks have been established by the Federal Government in this extensive Sequoia forest,—the General Grant National Park, four square miles in extent, in the Kings River Grove, and the Sequoia National Park, containing two hundred and fifty square miles, in the Kaweah River Grove. These Parks, together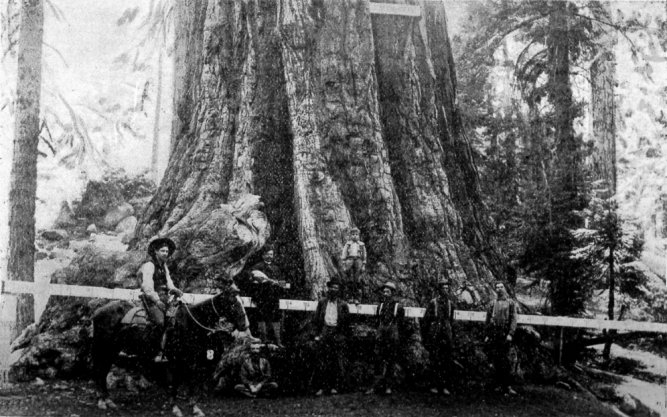 Photograph by Sweeney.
GENERAL GRANT TREE, GENERAL GRANT NATIONAL PARK.
Diameter at base said to be 40 feet.

with the Yosemite National Park, are guarded every summer season by detachments of United States cavalry.

In every grove of Big Sequoias in the state, except the small group in Placer County, there are to be found some fine large specimens of these grandest of forest persons who are able to visit only one of the smaller groves can get a good idea of the general appearance and character of this species, of trees; but the larger groves are much more interesting and impressive in their awe-inspiring grandeur.
---
Next: Size • Contents • Previous: Mariposa Grove
http://www.yosemite.ca.us/library/big_trees_of_california/sequoia_national_park.html