Yosemite > Library > Big Trees of Calif. > The Mariposa Grove >
Next: Sequoia National Park • Contents • Previous: Distribution
The Big Trees of California (1907), by Galen Clark
---
The Mariposa Grove
---
The next grove south is the Mariposa Grove, in Mariposa County, located between three and four miles southeast of Wawona. The grove is situated in a depression on a mountain ridge on the head waters of a branch of Big Creek, which empties into the south fork of the Merced River, near Wawona. Wawona is the headquarters of the Yosemite Stage & Turnpike Company, on the stage routes from Raymond and Mariposa to Yosemite Valley.
The Mariposa Grove is easy of access by carriage road, and contains six hundred trees, some of them being among the largest in the State. In the main portion of the grove the road makes a wide loop, so that many of the largest trees may be seen from the carriage. This grove, including four square miles of territory, was ceded to the State of California in trust as a public park in June, 1864, by the same Act of Congress that ceded the Yosemite Valley to the State under similar conditions. This grove of Big Trees has since been under the protection and management of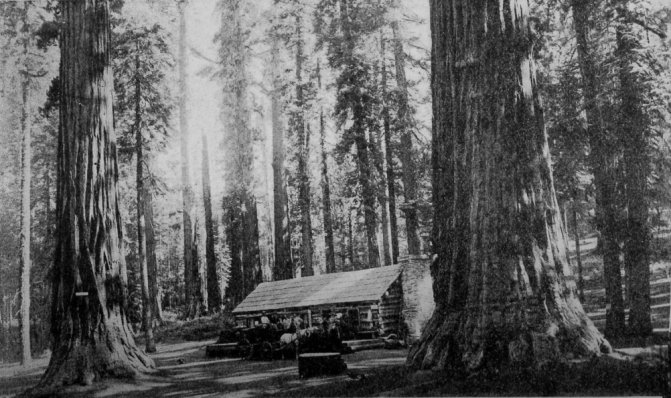 Photograph by Reichel.
GUARDIAN'S CABIN, MARIPOSA GROVE

the Yosemite Commissioners, and is the only grove of Big Trees in the State which is entirely free from private claims. Together with the Yosemite Valley it has recently been receded by the State of California to the National Government.

About ten miles nearly southeast of the Mariposa Grove, in Madera County, there is another grove of Big Trees, on a small north branch of the Fresno River. This grove was named the Fresno Grove, as it was then in Fresno County, and which first discovered in 1857 contained about six hundred trees, one of the largest measuring eighty-three feet in circumference four feet above the ground. A large number of these trees have now been cut down and sawed into lumber.

Still further south is a small grove in Fresno County on Dinky Creek, a tributary of King's River from the north.
---
Next: Sequoia National Park • Contents • Previous: Distribution
http://www.yosemite.ca.us/library/big_trees_of_california/mariposa_grove.html