Yosemite > Library > Big Trees of Calif. > Distribution of the Big Trees >
Next: Mariposa Grove • Contents • Previous: Origin
The Big Trees of California (1907), by Galen Clark
---
Distribution of the Big Trees
---
The most northerly group of Big Trees consists of a few trees in Placer County, on a tributary of the American River, none of which is of large dimensions.
The next grove south is the Mammoth or Calaveras Grove, in Calaveras County. This grove was the first to be discovered and made known to the public. It contains about one hundred trees, some of which are of very large dimensions. The grove known as the South Calaveras Grove is about eight miles distant, in Stanislaus County containing about one thousand trees. These two groves are now owned by a lumber company.
In Tuolumne County on a small tributary of the South Fork of the Tuolumne River, there is a small grove known as the Tuolumne Grove, in which are some very large fine trees. The Big Oak Flat & Yosemite stage road passes through this grove.
A few miles southwest of the Tuolumne Grove, on Moss Canyon Creek, in Mariposa County, there is a small grove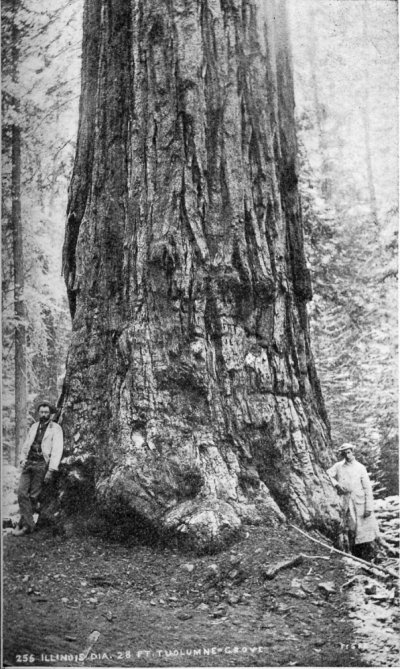 Photograph by Fiske.
ILLINOIS TREE, TUOLUMNE GROVE.
Diameter, 28 feet.

known as the Merced Grove, which also has some fine specimens. The Coulterville & Yosemite stage road passes through this grove.
---
Next: Mariposa Grove • Contents • Previous: Origin
http://www.yosemite.ca.us/library/big_trees_of_california/distribution.html