Yosemite > Library > Big Trees of Calif. > Origin of the Big Trees >
Next: Distribution • Contents • Previous: Big Trees
The Big Trees of California (1907), by Galen Clark
---
Origin of the Big Trees
---
The present Big Sequoias, now only found in a few limited groves in California, are regarded by scientists as the scanty and sole survivors, with but slight variation, of an ancient order of forest trees which flourished extensively during the cretaceous and tertiary periods of the earth's life, contemporaneous with such huge animals as the dinotherium, megatherium, mammoth, and monster reptiles long since extinct.
In that remote period probably the climatic conditions were more favorable for extensive distribution of these trees than at present. Fossil remains of this species are said to have been found in the northern hemisphere on three continents, Europe, Asia and America. There now seems to be no good reason why these Big Trees in California should become extinct for many centuries yet to come, if properly guarded and protected from the ruthless axes and saws of lumbermen.
Californians as a mass have not yet fully realized the great value to the State of this magnificent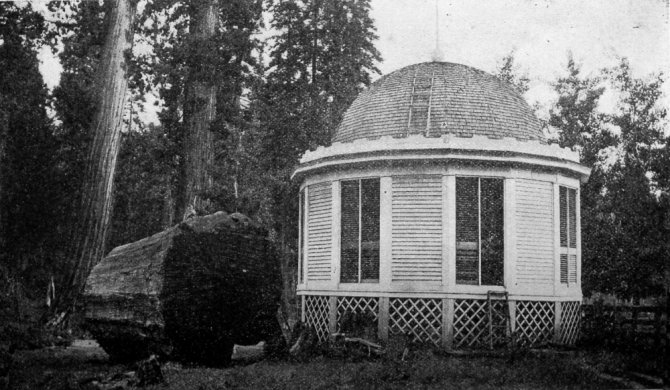 Photograph by Fiske.
DANCING PAVILION ON STUMP OF BIG TREE.
Calaveras Grove.

endowment of Nature, one of her most precious crown jewels, which aids in attracting thousands of visitors and millions of dollars annually.
---
Next: Distribution • Contents • Previous: Big Trees
http://www.yosemite.ca.us/library/big_trees_of_california/origin.html