Yosemite > Library > Big Trees of Calif. > Other Celebrated Trees >
Next: Botanical Nomenclature • Contents • Previous: Solitary Survivor
The Big Trees of California (1907), by Galen Clark
---
Other Celebrated Trees
---
There are two trees in the Mariposa Grove which have driveways cut through them, one being known as the Wawona Tree, twenty-eight feet in diameter, and the other as the California, twenty-one feet in diameter. These trees had been burned to such an extent that widening out the passage for stages did not injure the roots or vitality, and cannot properly be termed an act of spoliation or vandalism. A ride through these trees in a six-horse stage, or any conveyance, is a great novelty and should not be missed.
There is also a carriage road cut through the Dead Giant in the Tuolumne Grove, and through the tree Pioneer in the Calaveras Grove.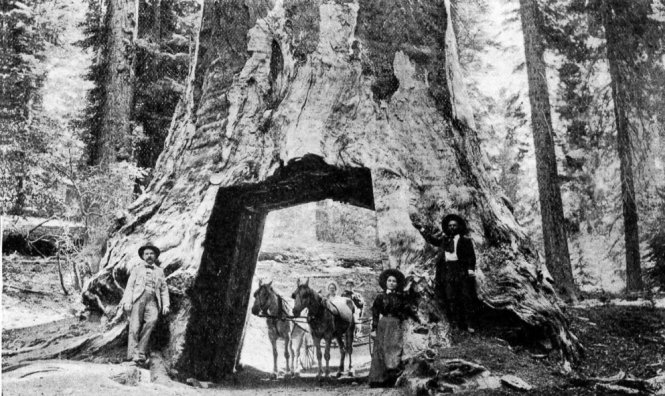 Photograph by Boysen.
DEAD GIANT, TUOLUMNE GROVE.
---
Next: Botanical Nomenclature • Contents • Previous: Solitary Survivor
http://www.yosemite.ca.us/library/big_trees_of_california/other.html