Yosemite > Library > Big Trees of Calif. > A Solitary Survivor >
Next: Other Celebrated Trees • Contents • Previous: Celebrated Specimens
The Big Trees of California (1907), by Galen Clark
---
A Solitary Survivor
---
The Big Tree named Boole, left standing in the Sanger Lumber Company's logging camp, is a close rival in size to any other of the largest trees in California. It has a base circumference of a little over one hundred feet. But since its strong bodyguard of surrounding forest trees, which have protected it from its infancy, have all been slaughtered for the saw mills, and it is left standing alone, its own colossal size becomes its greatest weakness, and it must soon succumb to the tempests which occasionally sweep through the mountain forests.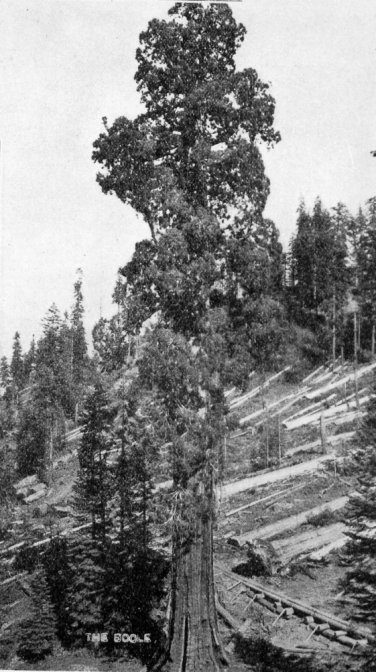 Photograph by Sweeney.
THE BOOLE TREE, KINGS RIVER GROVE.
Sanger Lumber Company's Camp.
Circumference at base, 106 feet.
---
Next: Other Celebrated Trees • Contents • Previous: Celebrated Specimens
http://www.yosemite.ca.us/library/big_trees_of_california/survivor.html