Yosemite > Library > Central Sierra Miwok Dictionary > I. The story of Yayali the Giant (Page 55) >
Next: Yayali the Giant continued (Page 56) • Contents • Previous: Numerals (Page 52)
Central Sierra Miwok Dictionary with Texts (1960) by L. S. Freeland and Sylvia M. Broadbent
---
TEXTS
---
Texts: I. The story of Yayali the Giant (Page 55)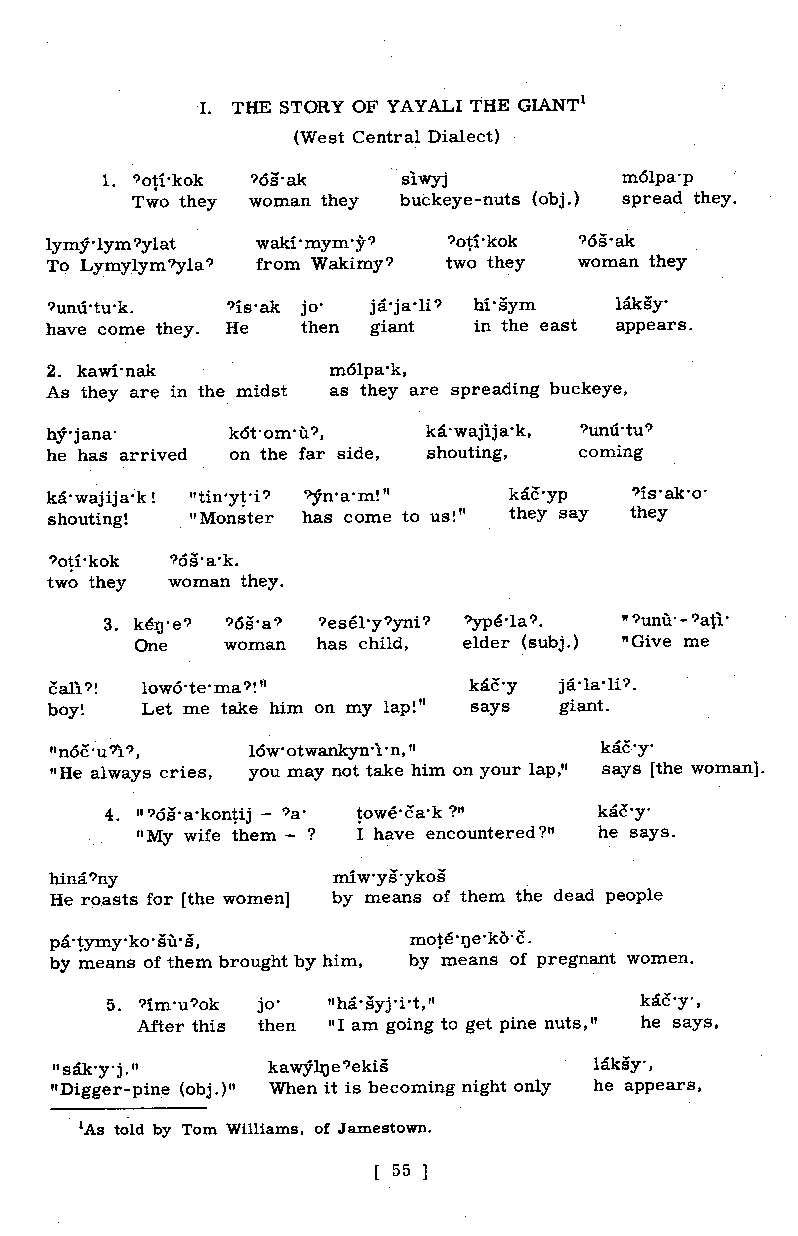 [click to enlarge]
STORY OF YAYALI THE GIANT1
(West Central Dialect)
1. Two they woman they buckeye-nuts (obj.) spread they.
To Lymylym?yla? from Wakimy? two they woman they
have come they. He then giant in the east appears.
2. As they are in the midst as they are spreading buckeye,
he has arrived on the far side, shouting, coming
shouting! "Monster has come to us!" they say they
two they woman they.
3. One woman has child, elder (subj.) "Give me
boy! Let me take him on my lap!" says giant.
"He always cries, you may not take him on your lap," says [the woman].
4. "My wife them — ? I have encountered?" he says.
He roasts for [the women] by means of them the dead people
by means of them brought by him, by means of pregnant women.
5. After this then "I am going to get pine nuts," he says,
"Digger-pine (obj.)" When it is becoming night only he appears,
———
---
Next: Yayali the Giant continued (Page 56) • Contents • Previous: Numerals (Page 52)
http://www.yosemite.ca.us/library/central_sierra_miwok_dictionary/page_55.html