Yosemite > Library > Central Sierra Miwok Dictionary > Yayali the Giant continued (Page 56) >
Next: Yayali the Giant continued (Page 57) • Contents • Previous: Yayali the Giant (Page 55)
Central Sierra Miwok Dictionary with Texts (1960) by L. S. Freeland and Sylvia M. Broadbent
---
Texts: Yayali the Giant continued (Page 56)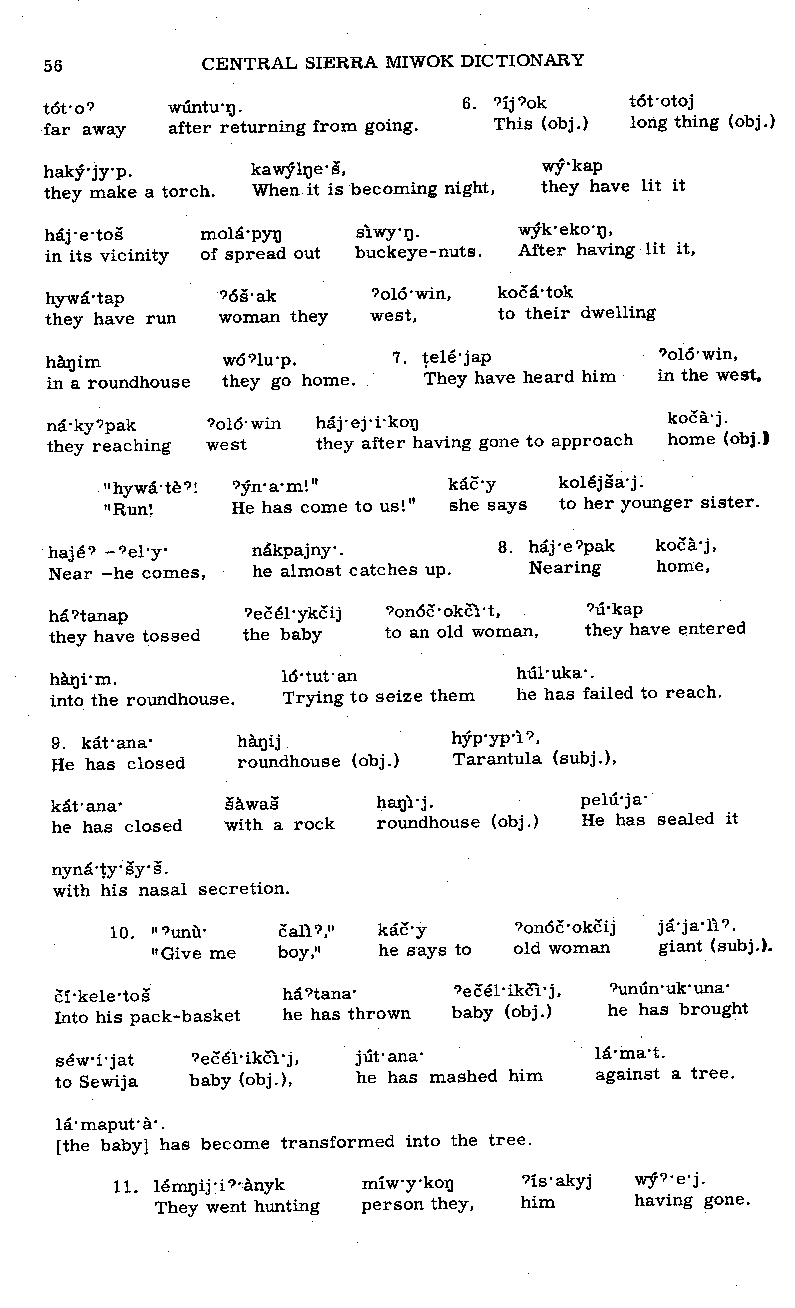 [click to enlarge]
far away after returning from going. 6. This (obj.) long thing (obj.)
they make a torch. When it is becoming night, they have lit it
in its vicinity of spread out buckeye-nuts. After having lit it,
they have run woman they west, to their dwelling
in a roundhouse they go home. 7. They have heard him in the west,
they reaching west they after having gone to approach home (obj_)
"Run! He has come to us:" she says to her younger sister.
Near -he comes, he almost catches up. 8. Nearing home,
they have tossed the baby to an old woman, they have entered
into the roundhouse. Trying to seize them he has failed to reach.
9. He has closed roundhouse (obj.) Tarantula (subj.),
he has closed with a rock roundhouse (obj.) He has sealed it
with his nasal secretion.
10. "Give me boy," he says to old woman giant (subj.).
Into his pack-basket he has thrown baby (obj.) he has brought
to Sewija baby (obj.), he has mashed him against a tree.
[the baby] has become transformed into the tree.
11. They went hunting person they, him having gone.
---
Next: Yayali the Giant continued (Page 57) • Contents • Previous: Yayali the Giant (Page 55)
http://www.yosemite.ca.us/library/central_sierra_miwok_dictionary/page_56.html