Yosemite > Library > Central Sierra Miwok Dictionary > Yayali the Giant continued (Page 57) >
Next: Yayali the Giant: free translation (Page 58) • Contents • Previous: Yayali the Giant continued (Page 56)
Central Sierra Miwok Dictionary with Texts (1960) by L. S. Freeland and Sylvia M. Broadbent
---
Texts: Yayali the Giant continued (Page 57)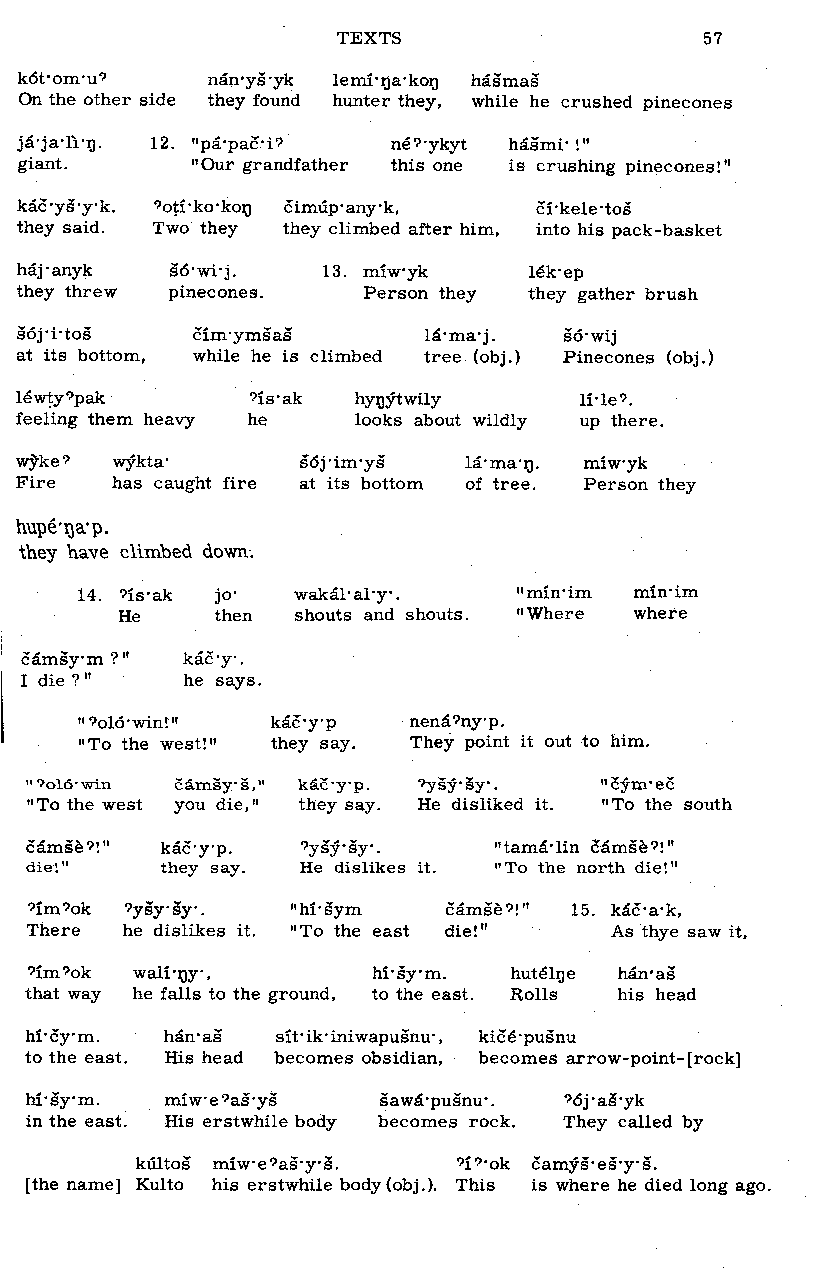 [click to enlarge]
On the other side they found hunter they, while he crushed pinecones
giant. 12. "Our grandfather this one is crushing pinecones!"
they said. Two they they climbed after him, into his pack-basket
they threw pinecones. 13. Person they they gather brush
at its bottom, while he is climbed tree (obj.) Pinecones (obj.)
feeling them heavy he looks about wildly up there.
Fire has caijcsht fire at its hnttnm of tree Perenn the,
they have climbed down.
14. He then shouts and shouts. "Where where
I die?" he says.
"To the west!" they say. They point it out to him.
"To the west you die," they say. He disliked it. "To the south
die!" they say. He dislikes it. "To the north die!"
There he dislikes it. "To the east die!" As thye saw it,
that way he falls to the ground, to the east. Rolls his head
to the east. His head becomes obsidian, becomes arrow-point-[rock]
in the east. His erstwhile body becomes rock. They called by
[the name] Kulto his erstwhile body (obj.). This is where he died long ago.
---
Next: Yayali the Giant: free translation (Page 58) • Contents • Previous: Yayali the Giant continued (Page 56)
http://www.yosemite.ca.us/library/central_sierra_miwok_dictionary/page_57.html