Yosemite > Library > Central Sierra Miwok Dictionary > Bear Shaman continued (Page 60) >
Next: Coyote & Rattlesnake Shamans (Page 61) • Contents • Previous: Bear Shaman (Page 59)
Central Sierra Miwok Dictionary with Texts (1960) by L. S. Freeland and Sylvia M. Broadbent
---
Texts: Bear Shaman continued (Page 60)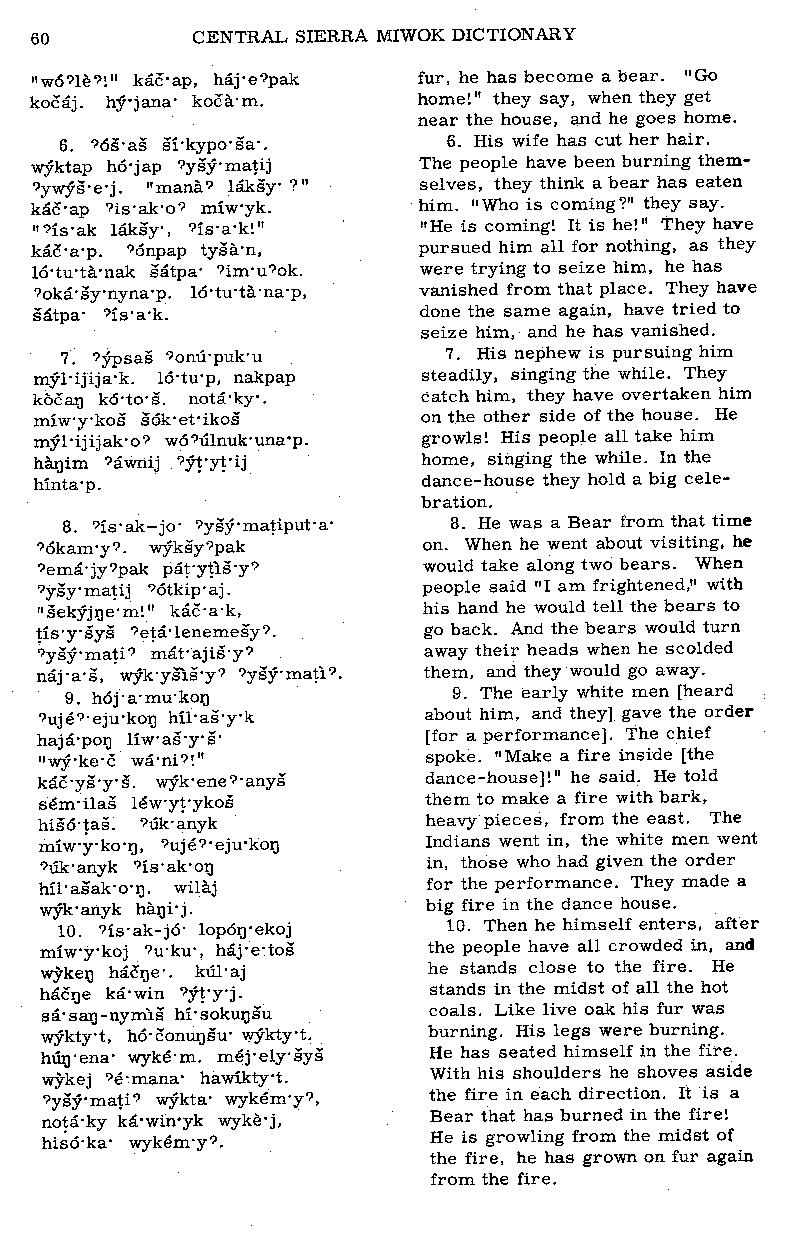 [click to enlarge]
fur, he has become a bear. "Go home!" they say, when they get near the house, and he goes home.
6. His wife has cut her hair. The people have been burning themselves, they think a bear has eaten him. "Who is coming?" they say. "He is coming! It is he!" They have pursued him all for nothing, as they were trying to seize him, he has vanished from that place. They have done the same again, have tried to seize him, and he has vanished.
7. His nephew is pursuing him steadily, singing the while. They catch him, they have overtaken him on the other side of the house. He growls! His people all take him home, singing the while. In the dance-house they hold a big celebration.
8. He was a Bear from that time on. When he went about visiting, he would take along two bears. When people said "I am frightened," with his hand he would tell the bears to go back. And the bears would turn away their heads when he scolded them, and they would go away.
9. The early white men [heard about him, and they] gave the order [for a performance]. The chief spoke. "Make a fire inside [the dance-house]!" he said. He told them to make a fire with bark, heavy pieces, from the east. The Indians went in, the white men went in, those who had given the order for the performance. They made a big fire in the dance house.
10. Then he himself enters, after the people have all crowded in, and he stands close to the fire. He stands in the midst of all the hot coals. Like live oak his fur was burning. His legs were burning. He has seated himself in the fire. With his shoulders he shoves aside the fire in each direction. It is a Bear that has burned in the fire! He is growling from the midst of the fire, he has grown on fur again from the fire.
---
Next: Coyote & Rattlesnake Shamans (Page 61) • Contents • Previous: Bear Shaman (Page 59)
http://www.yosemite.ca.us/library/central_sierra_miwok_dictionary/page_60.html