Yosemite > Library > Central Sierra Miwok Dictionary > Coyote and Rattlesnake Shamans (Page 61) >
Next: Shamans continued (Page 62) • Contents • Previous: Bear Shaman continued (Page 60)
Central Sierra Miwok Dictionary with Texts (1960) by L. S. Freeland and Sylvia M. Broadbent
---
Texts: Coyote and Rattlesnake Shamans (Page 61)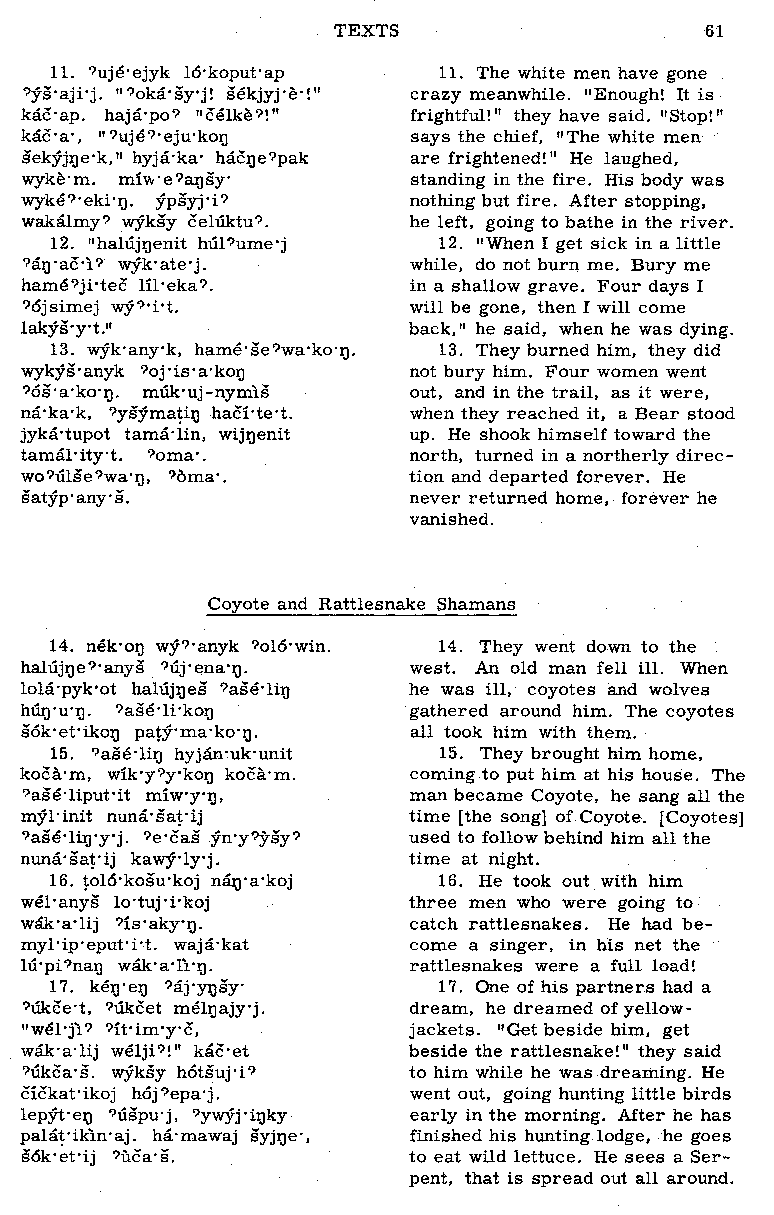 [click to enlarge]
11. The white men have gone crazy meanwhile. "Enough! It is frightful!" they have said. "Stop!" says the chief, "The white men are frightened!" He laughed, standing in the fire. His body was nothing but fire. After stopping, he left, going to bathe in the river.
12. "When I get sick in a little while, do not burn me. Bury me in a shallow grave. Four days I will be gone, then I will come back," he said, when he was dying.
13. They burned him, they did not bury him. Four women went out, and in the trail, as it were, when they reached it, a Bear stood up. He shook himself toward the north, turned in a northerly direction and departed forever. He never returned home, forever he vanished. Coyote and Rattlesnake Shamans
Coyote and Rattlesnake Shamans
14. They went down to the west. An old man fell ill. When he was ill, coyotes and wolves gathered around him. The coyotes all took him with them.
15. They brought him home, coming to put him at his house. The man became Coyote, he sang all the time [the song] of Coyote. [Coyotes] used to follow behind him all the time at night.
16. He took out with him three men who were going to catch rattlesnakes. He had become a singer, in his net the rattlesnakes were a full load!
17. One of his partners had a dream, he dreamed of yellowjackets. "Get beside him, get beside the rattlesnake!" they said to him while he was dreaming. He went out, going hunting little birds early in the morning. After he has finished his hunting lodge, he goes to eat wild lettuce. He sees a Serpent, that is spread out all around.
---
Next: Shamans continued (Page 62) • Contents • Previous: Bear Shaman continued (Page 60)
http://www.yosemite.ca.us/library/central_sierra_miwok_dictionary/page_61.html