Yosemite > Library > Central Sierra Miwok Dictionary > Salmon Shaman, Deer Shaman (Page 63) >
Next: Shamans continued (Page 64) • Contents • Previous: Shamans continued (Page 62)
Central Sierra Miwok Dictionary with Texts (1960) by L. S. Freeland and Sylvia M. Broadbent
---
Texts: Salmon Shaman, Deer Shaman (Page 63)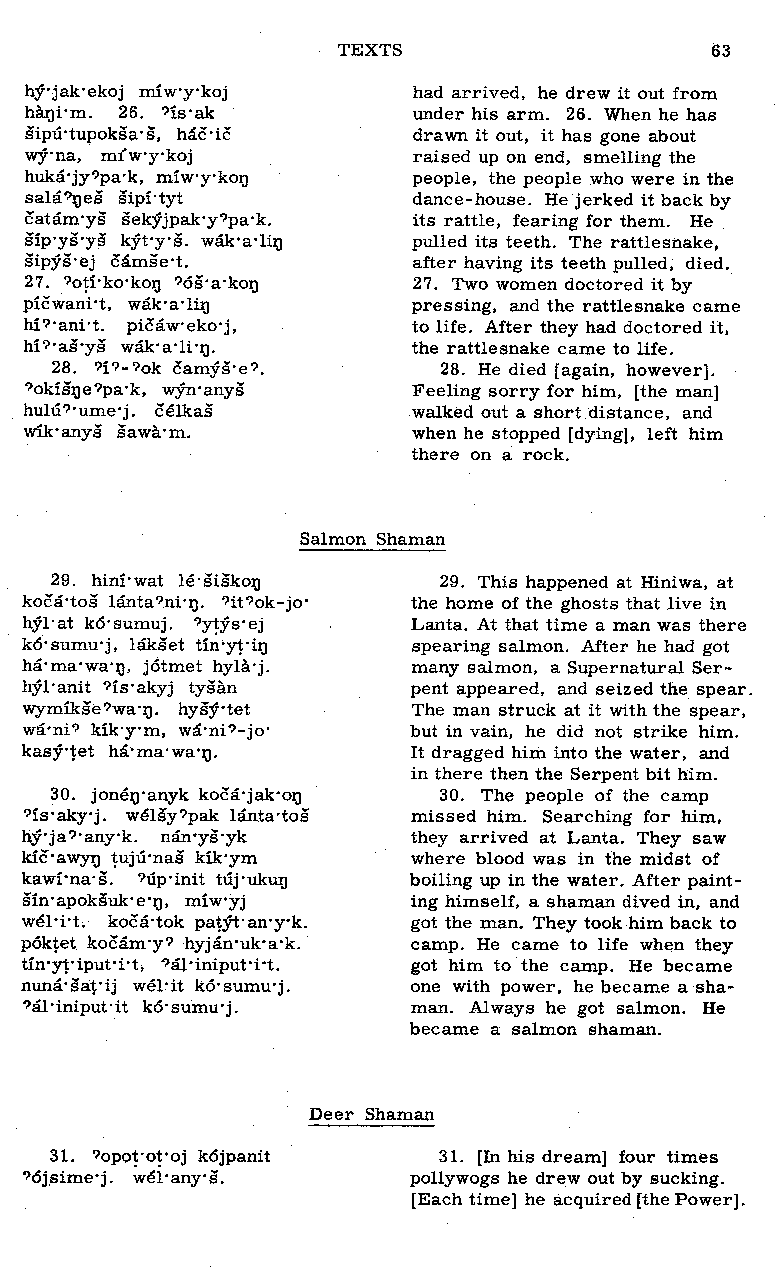 [click to enlarge]
had arrived, he drew it out from under his arm. 26. When he has drawn it out, it has gone about raised up on end, smelling the people, the people who were in the dance-house. He jerked it back by its rattle, fearing for them. He pulled its teeth. The rattlesnake, after having its teeth pulled, died. 27. Two women doctored it by pressing, and the rattlesnake came to life. After they had doctored it, the rattlesnake came to life.
28. He died [again, however]. Feeling sorry for him, [the man] walked out a short distance, and when he stopped [dying], left him there on a rock.
Salmon Shaman
29. This happened at Hiniwa, at the home of the ghosts that live in Lanta. At that time a man was there spearing salmon. After he had got many salmon, a Supernatural Serpent appeared, and seized the spear. The man struck at it with the spear, but in vain, he did not strike him. It dragged him into the water, and in there then the Serpent bit him.
30. The people of the camp missed him. Searching for him, they arrived at Lanta. They saw where blood was in the midst of boiling up in the water. After painting himself, a shaman dived in, and got the man. They took him back to camp. He came to life when they got him to the camp. He became one with power, he became a shaman. Always he got salmon. He became a salmon shaman.
Deer Shaman
31. [In his dream] four times pollywogs he drew out by sucking. [Each time] he acquired [the Power].
---
Next: Shamans continued (Page 64) • Contents • Previous: Shamans continued (Page 62)
http://www.yosemite.ca.us/library/central_sierra_miwok_dictionary/page_63.html