Yosemite > Library > Central Sierra Miwok Dictionary > Condor Shaman, Teaching the art of poisoning (Page 64) >
Next: Shamans continued (Page 65) • Contents • Previous: Shamans continued (Page 63)
Central Sierra Miwok Dictionary with Texts (1960) by L. S. Freeland and Sylvia M. Broadbent
---
Texts: Condor Shaman, Teaching the art of poisoning (Page 64)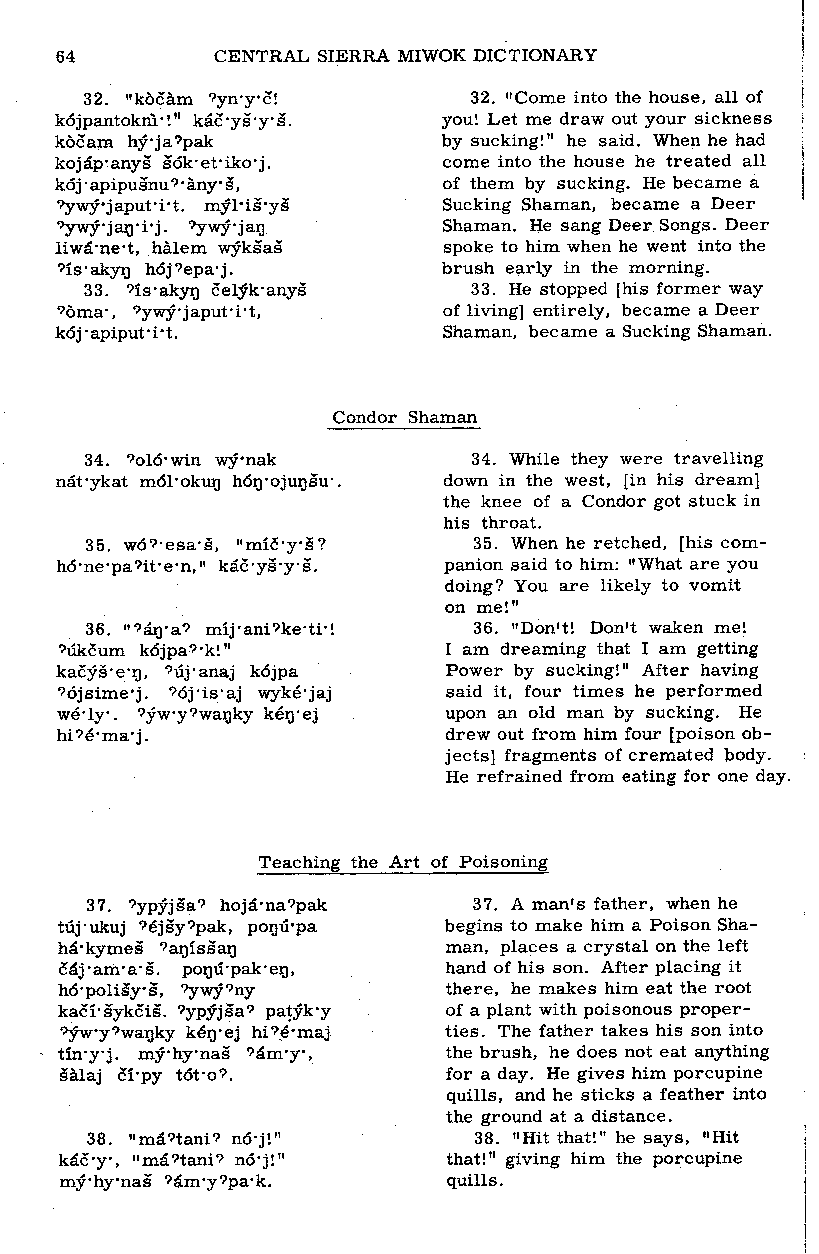 [click to enlarge]
32. "Come into the house, all of you! Let me draw out your sickness by sucking!" he said. When he had come into the house he treated all of them by sucking. He became a Sucking Shaman, became a Deer Shaman. He sang Deer Songs. Deer spoke to him when he went into the brush early in the morning.
33. He stopped [his former way of living] entirely, became a Deer Shaman, became a Sucking Shaman.
Condor Shaman
34. While they were travelling down in the west, [in his dream] the knee of a Condor got stuck in his throat.
35. When he retched, [his companion said to him: "What are you doing? You are likely to vomit on me!"
36. "Don't! Don't waken me! I am dreaming that I am getting Power by sucking!" After having said it, four times he performed upon an old man by sucking. He drew out from him four [poison objects] fragments of cremated body. He refrained from eating for one day.
Teaching the Art of Poisoning
37. A man's father, when he begins to make him a Poison Shaman, places a crystal on the left hand of his son. After placing it there, he makes him eat the root of a plant with poisonous properties. The father takes his son into the brush, he does not eat anything for a day. He gives him porcupine quills, and he sticks a feather into the ground at a distance.
38. "Hit that!" he says, "Hit that!" giving him the porcupine quills.
---
Next: Shamans continued (Page 65) • Contents • Previous: Shamans continued (Page 63)
http://www.yosemite.ca.us/library/central_sierra_miwok_dictionary/page_64.html