Yosemite > Library > Central Sierra Miwok Dictionary > Practicing the art of poisoning (Page 65) >
Next: Notes on dances: (Page 66) • Contents • Previous: Shamans continued (Page 64)
Central Sierra Miwok Dictionary with Texts (1960) by L. S. Freeland and Sylvia M. Broadbent
---
Texts: Practicing the art of poisoning (Page 65)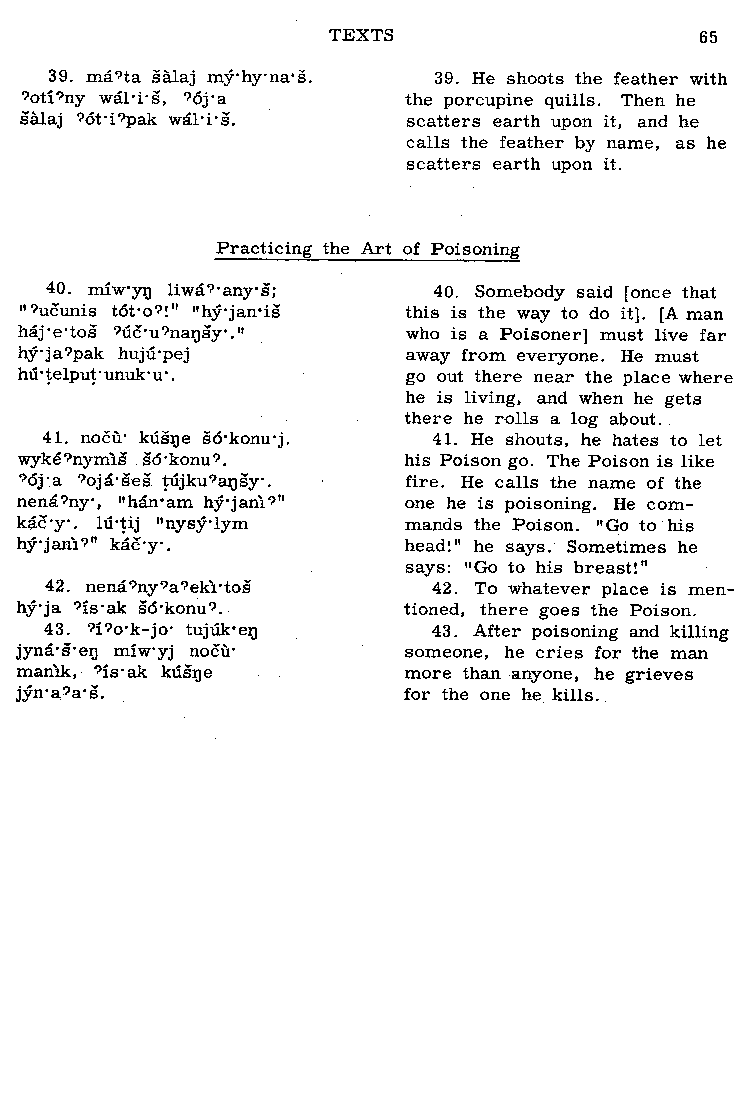 [click to enlarge]
39. He shoots the feather with the porcupine quills. Then he scatters earth upon it, and he calls the feather by name, as he scatters earth upon it.
Practicing the Art of Poisoning
40. Somebody said [once that this is the way to do it]. [A man who is a Poisoner] must live far away from everyone. He must go out there near the place where he is living, and when he gets there he rolls a log about.
41. He shouts, he hates to let his Poison go. The Poison is like fire. He calls the name of the one he is poisoning. He commands the Poison. "Go to his head!" he says. Sometimes he says: "Go to his breast!"
42. To whatever place is mentioned, there goes the Poison.
43. After poisoning and killing someone, he cries for the man more than anyone, he grieves for the one he kills.
---
Next: Notes on dances: (Page 66) • Contents • Previous: Shamans continued (Page 64)
http://www.yosemite.ca.us/library/central_sierra_miwok_dictionary/page_65.html