Yosemite > Library > Central Sierra Miwok Dictionary > III. Notes on dances: Shaman and Clown, Alina (Page 66) >
Next: Two Songs: (Page 67) • Contents • Previous: Shamans continued (Page 65)
Central Sierra Miwok Dictionary with Texts (1960) by L. S. Freeland and Sylvia M. Broadbent
---
Texts: III. Notes on dances: Shaman and Clown, Alina (Page 66)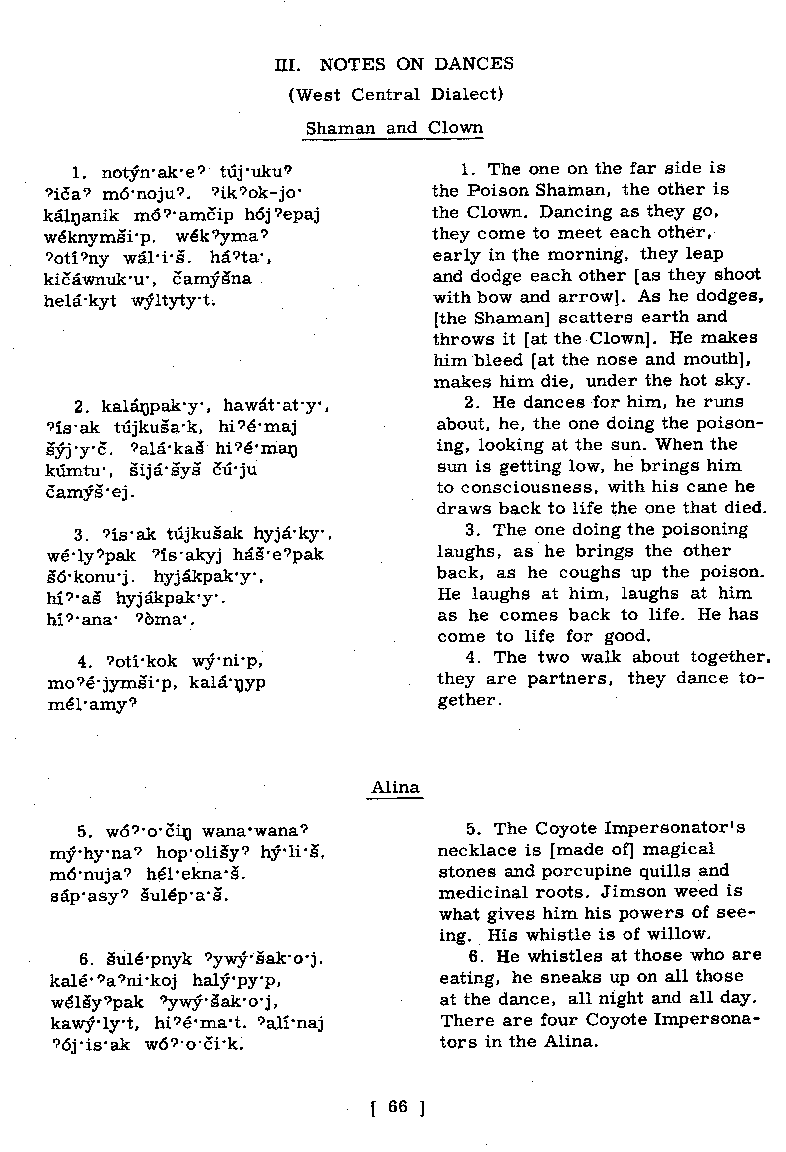 [click to enlarge]
III. NOTES ON DANCES
(West Central Dialect)
Shaman and Clown
1. The one on the far side is the Poison Shaman, the other is the Clown. Dancing as they go, they come to meet each other, early in the morning, they leap and dodge each other [as they shoot with bow and arrow]. As he dodges, [the Shaman] scatters earth and throws it [at the Clown]. He makes him bleed [at the nose and mouth], makes him die, under the hot sky.
2. He dances for him, he runs about, he, the one doing the poisoning, looking at the sun. When the sun is getting low, he brings him to consciousness, with his cane he draws back to life the one that died.
3. The one doing the poisoning laughs, as he brings the other back, as he coughs up the poison. He laughs at him, laughs at him as he comes back to life. He has come to life for good.
4. The two walk about together. they are partners, they dance together.
Alina
5. The Coyote Impersonator's necklace is [made of] magical stones and porcupine quills and medicinal roots. Jimson weed is what gives him his powers of seeing. His whistle is of willow.
6. He whistles at those who are eating, he sneaks up on all those at the dance, all night and all day. There are four Coyote Impersonators in the Alina.
---
Next: Two Songs: (Page 67) • Contents • Previous: Shamans continued (Page 65)
http://www.yosemite.ca.us/library/central_sierra_miwok_dictionary/page_66.html