Yosemite > Library > Exploration of the Sierra Nevada >
---
"Exploration of the Sierra Nevada" (1925)
by Francis P. Farquhar
"Exploration of the Sierra Nevada" appeared in the California Historical Society Quarterly for March 1925. It was a basis for at least two books, Place Names of the Sierra Nevada, appearing in 1926, and his best work, History of the Sierra Nevada (1946). The latter book is a popular classic still in print (and, unfortunately, still under copyright). However, if this Sierra Nevada history interests you, I highly recommend reading the book, as it provides more information than this article.
---
About the Author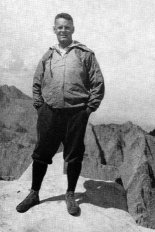 Francis P. Farquhar was born in Newton, Massachusetts in Dec. 31, 1887. He graduated from Harvard and came to San Francisco to set up practice as a CPA. He married his wife Marjory Bridge in 1934 and they had two sons and a daughter. Francis Farquhar was an active Sierra Club leader and served as its president 1933-1935 and 1948-1949, Sierra Club Bulletin editor from 1926 to 1946, and served in other club offices as director from 1924 to 1951. Mr. Farquhar was a mountaineer who introduced proper use of rope to Sierra Club members on a club trip in 1931. He has made multiple first ascents, including the Middle Palisades in 1921. Mr. Farquhar is the author of several books and wrote the foreword for other books. He is best known for his book History of the Sierra Nevada (1946), which is still in print. He died Nov. 21, 1974 in Berkeley, California. His wife Marjory died 1999 in San Francisco. Mt. Francis Farquhar (12,893'), located 1.6 miles NW of Mt. Brewer in Kings Canyon National Park, was named in honor of him.
---
Bibliographical Information
Francis Peloubet Farquhar (1887 - 1974), "Exploration of the Sierra Nevada," California Historical Society Quarterly, 4(1):3-58 (March 1925). No copyright. ISSN 0008-1175. Available on microfilm.
This article was also printed in book form, but copies are rare. Only 275 copies were reprinted from the original article. Tan wrapper (Cowan (II), p. 204).
Digitized by Dan Anderson, October 2004, from a copy in the UCSD Library. These files may be used for any non-commercial purpose, provided this notice is left intact.
—Dan Anderson, www.yosemite.ca.us
---
http://www.yosemite.ca.us/library/exploration_of_the_sierra_nevada/