Yosemite > Library > Fishes >
---
Fishes of Yosemite National Park (1941, 1948) by Willis A. Evans and Orthello L. Wallis
| | | |
| --- | --- | --- |
| Descriptions of Yosemite Fishes | | |
---
About the Authors
Willis A. Evans (1941 author)
Willis A. Evans was born in Ogden Utah Dec. 22, 1918 and moved to Pasadena when two. As a youth he spent much time hunting and fishing. He earned a Bachelor's degree in Fish and Wildlife Management at Oregon State University, and became a Ranger Naturalist in Yosemite National Park. Next, he was a Fisheries Biologist with the Department of Fish and Game (DFG) in Los Angeles where he studied the decimation of the sardine population.

During World War II he served in the US Army, but didn't go to Europe due to measles. After the war he transferred to Japan to help boost the country's fishing industry. After his military service, he returned to DFG to study salmon and steelhead runs in the San Joaquin River and lived in Marin. In 1967, he took a leave from DFG and served in West Africa for 5 years studying native river fish and taught indigenous peoples how to fish large lakes. After that he worked for the US Forest Service where he changed the design of fire road slopes to reduce environmental impacts. Finally he was Regional Supervisor with DFG.

Willis Evans died April 10, 2003 in San Geronimo, California. He was married and divorced twice and had two daughters and a son. Willis Evans Canyon and Creek in San Geronimo are named for him.
Orthello L. Wallis (1948 author)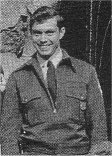 Orthello L. Wallis,
1952 (YRL)
Orthello L. "Willy" Wallis was born May 1, 1921. He served in the U.S. Marine Core in World War II until discharged February 1, 1946. He attended San Diego State College before the war and University of Redlands after, where he received a MS in Fish and Game Management. He served as a Naturalist in Yosemite from 1950 to 1954, when he transferred to Lake Mead National Recreation Area. Wallis eventually became Chief Aquatic Science for the Park Service. He retired and starting in 1984 worked as a volunteer at Tuolumne Meadows during the summer for at least 4 years. Wallis resides in San Rafael, California. According to Shirley Sargent in Protecting Paradise (1998) he was
Sometimes called "Mr. Fish" because of his intense interest in the history and management of trout, Wallis was an outstanding man and wrote well. Not only was he on active duty with the Marines in WW II but was wounded on Okinawa. After the war he obtained his Masters degree in fish and game management before returning to Yosemite. . . . His research and writing of a comprehensive manuscript entitled "Yosemite Trout Investigation, 1951-1953," is held in the Yosemite Research Library.
---
Bibliographical Information
Willis A. Evans (1918-2003) and Orthello L. Wallis (1921-), Fishes of Yosemite National Park (Yosemite Natural History Association, 1944, 1949). Second edition, 1949. 32 pages + inside covers. Illustrated. 24 cm. Saddle stitched with paper wrappers. First published as Yosemite Nature Notes 23(1) (January 1944) and revised 1949.
Digitized by Dan Anderson, December 2006, from a personal copy. These files may be used for any non-commercial purpose, provided this notice is left intact.
—Dan Anderson, www.yosemite.ca.us
---
http://www.yosemite.ca.us/library/fishes/