Yosemite > Library > Fishes > Sierra Chub-roach >
Next: Family Cottidae • Contents • Previous: Hardhead
Fishes of Yosemite National Park (1941, 1948) by Willis A. Evans and Orthello L. Wallis
---
SIERRA CHUB-ROACH
Hesperoleucus symmetricus (Laird and Girard), subspecies
The Sierra chub-roach is described as a speckled, finger-length minnow possessing a long head, pointed snout, narrow tail, long fins and large eyes. It is a native of the lower stretches of the San Joaquin River drainage. It was first noticed to occur in Yosemite National Park when reported from the Hetch Hetchy Reservoir in 1930. It was assumed that it had been introduced by the dumping of live bait but it may have been native to the Tuolumne River in Hetch Hetchy Valley prior to the impoundment and did not build up a conspicuous population in the lake until 1930. During 1948, this species was found to occur and breed in the Merced River at the western boundary by Dr. Carl L. Hubbs.
These fish are generally scarce above 2,000 feet where they are inconspicuous, for in swift water they tend to seek retreat under boulders.
In Hetch Hetchy as in the Merced canyon, these fish undoubtedly contribute considerably to the food of the trout. Large brown and rainbow trout taken from Hetch Hetchy frequently contain several of these minnows.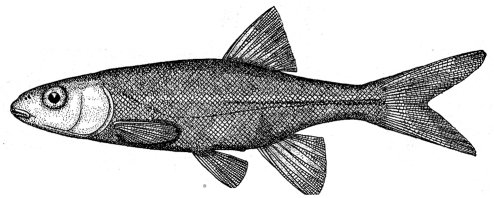 [click to enlarge]


SIERRA CHUB-ROACH—Drawn by Ranger Naturalist Martin R. Brittan from a 3 1/2-inch specimen.
---
Next: Family Cottidae • Contents • Previous: Hardhead
http://www.yosemite.ca.us/library/fishes/sierra_chub-roach.html